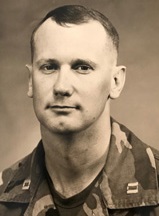 Steve Edward Gunn, 61, of Kingston, North Carolina, formerly of Grayville, Illinois, died at 7:25 pm, January 24, 2018. He attended the Grayville schools and was a 1974 graduate of Grayville High School.  He graduated from Mt. Carmel Community College in 1976 and continued his education at Eastern Illinois University where he earned a Bachelor of Science degree in 1978, and later, a Masters in Business Administration.  Steve taught school in Lawrenceville, Illinois, where he also served as assistant football coach.
He then enlisted in the Marine Corps and attained rank of Captain before leaving after 12 years of service.  After his military service, Steve was Operations Manager for DHL Express Shipping, until his illness (Alzheimer's disease) forced his retirement.
Survivors include son, Josh (Giovanna) Gunn of Winterville, North Carolina; daughter, Sarah Gunn and her boyfriend Frank Perez of Plantation, Florida; brother, Richard (Beth) Gunn of Oklahoma City, Oklahoma; sister, Cherry (Jay) Williams of Albion, Illinois; grandchildren Joel and J.J.; a nephew; and several nieces.
Graveside service with military rites ;for Steve Edward Gunn will be 1:00 pm, Sunday, March 11, 2018, at Oak Grove Cemetery in Grayville.
There will be no prior visitation and attendees are asked to be at the cemetery no later than 1:00 pm, Sunday, March 11, 2018.  Immediately following the graveside service, there will be a celebration of Steve's life at the VFW Building in Grayville.
Memorial donations may be made to the Alzheimer's Association National Office, 225 N. Michigan Ave., Fl. 17, Chicago, IL 60601, or donations will be accepted at Cook Funeral Chapel, Grayville, Illinois, which is in charge of arrangements.