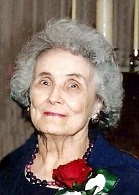 89-year-old McLeansboro resident, Mae Belle (Evans) Inman died at 8:16 a.m. Saturday, March 10 at her home.  A member of the Antioch Missionary Baptist Church, she worked as a cook at the Thompsonville Café in Thompsonville, Ill.
Survivors include four daughters, Carol L. Wiggins and husband David of McLeansboro, Sharon Kelley of Thompsonville, Tessa Evans and husband Terry of Marion, Ill. and Regina Zook and husband Randy of Bloomfield, MO; a son, Randy Evans and wife Vickie of Kenneth City, Ill.; a step-daughter, Linda Meyers and husband Mike of Chester, Ill.; her dog "Patches", a daughter-in-law, Carol Evans of East Prairie, MO; four sisters, Modena Skaggs of East Prairie, MO, Ruby Flowers and Jewell Young of Princeton, KY and Linda Cogdill of Peoria, Ill; 18 grandchildren, 39 great-grandchildren and 12 great-great-grandchildren.
Funeral services for Mae Belle Inman will be 11 a.m. Wednesday, March 14 at the Harre Funeral Home in McLeansboro with burial at Antioch Cemetery.
Visitation will be from 6 – 8 Tuesday evening, March 13 at the Harre Funeral Home in McLeansboro.
Memorials may be made to the Bloomfield Veterans Cemetery and will be accepted at the Harre Funeral Home in McLeansboro.