ARMED ROBBERY – Carmi police are investigating an armed robbery at Rock Bottom Liquor Monday night.  Shortly before 11:30 Monday night, police received a panic alarm from the liquor store. Arriving in less than a minute, police were informed the business had been held up by a male suspect. The suspect was wearing blue jeans, a black hoodie, black sunglasses and a black mask. Surveillance video showed the suspect running into the business and ordering the store's two owners onto the floor. While holding the owners at gunpoint, the suspect took an undisclosed amount of cash from the register.   Police report that although the suspect was mostly covered in clothing, it appeared he was a white male.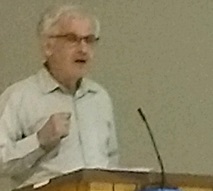 Monty Manahan of the Wayne County Press has been awarded the Community Service Award during Tuesday evening's annual Fairfield Chamber of Commerce banquet.  Monte is well known for his volunteer work at local sporting events.  He is most often seen operating the scoreboard at school sporting events.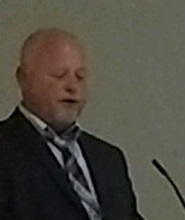 Honored as the Business of the Year was the Fairfield Save-A-Lot. Save-A-Lot is operated by Tim McBride, (pictured) who has been involved with the Save-A-Lot franchise for over 20 years.  He is in the process of moving his store into the former IGA property on W. Main Street. The building is getting a complete makeover, including wider aisles, additional product offerings, and new refrigeration and freezer equipment.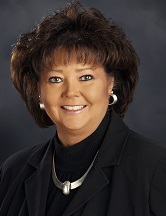 Giving the keynote address at the annual Chamber Banquet was Katherine Bunting-Williams – CEO of Fairfield Memorial Hospital.  Williams announced an expansion of the hospital that she says will bring 60 additional jobs to the community – both medical and non-medical positions.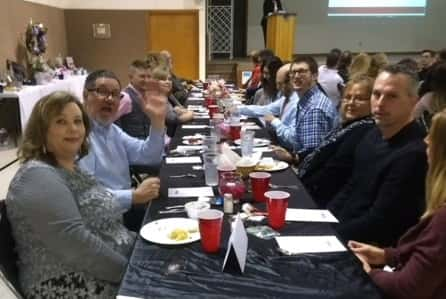 A large crowd attended Monday night's Chamber Banquet at the Community of Christ Church, including a large group from the Original Company – WFIW-WOKZ.
Edwards County School officials cancelled a Junior High dance last Friday evening after receiving an alleged threat to the school. The threat was unfounded, authorities said. Law enforcement officials warn that any threat against a school will be fully investigated. In the past two weeks, three students in the area have been arrested for making school threats.
Two cell-phone towers near Grayville have been targeted by thieves. In both cases, thieves cut their way through a fence and stole copper wire from a control panel.  Police have collected evidence from the scene for forensic processing.
56-year-old Scottie K. Hosick of Enfield has been cited for drunk driving after he wrecked his Razor side-by-side on Ill. Rt. 1 at White County 800 E.  Hosick was also cited for unlawful operation of an ATV on a roadway.