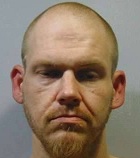 White County Sheriff Doug Maier reports the arrest Wednesday afternoon of 35-year-old Steven Earl Linder of Goodman Street in Crossville.  Sheriff Maier and one of his deputies went to Linder's residence to serve him with a warrant for failure to register as sex offender.  During questioning police say they spotted several drug-related items on a living room table, including a glass smoking pipe, and several empty plastic baggies. The bags tested positive for methamphetamine, police said.  Linder was arrested on the sex offender registration warrant and now faces a charge of being in possession of methamphetamine.
The Fairfield City Council has approved the promotion of Patrolman Brad Sager to the rank of Sergeant.  Sgt. Sager was promoted after Sgt. Warren Musgrave announced plans to retire.
Carroll Dugger will be the new Maple Hill Cemetery Sexton. The Fairfield City Council approved the appointment after current Sexton David Milner announced plans to retire.
Sara McGehee, a 7th grader took first place in the Center Street School's speech contest sponsored by the Modern Woodmen of America. 7th grader Lucy Britt took second place with 6th grader Caleb Vaughan taking third place.
Chase Hallam, an 8th grader took first place in the Geff Grade School speech contest.  Second place went to Kiera Freeman, a 5th grader. And 7th grader Averi Vinson took third place.
At a meeting of the Edwards County Community Unit School Board, members discussed goals for the coming school year. Officials plan to employ a social worker/guidance counselor for the elementary grades.
Friends of the Fairfield Public Library will conduct their spring book and bake sale on Saturday, April 21 from 10 a.m. – 2 p.m.  The library has a number of newly donated books that will be offered to patrons for the first time. Friends will also be raffling off a collection of spring items, including garden tools, a bird feeder and a Vera Bradley tote.