FATAL CRASH – One man is dead and the passenger in his vehicle was seriously injured in a crash at the intersection of Enterprise Road and the Mt. Erie Road Friday afternoon.  Coroner Jimmy Taylor says a semi was traveling northbound on Enterprise road – ran the stop sign and struck the victim's vehicle.  The driver was killed and his passenger was airlifted to an Evansville hospital.  The semi driver was also hurt and taken to an Evansville hospital. State Police, Wayne County Sheriff's Deputies and the Wayne County Coroner are investigating the crash.  The name of the victim is being withheld pending notification of relatives.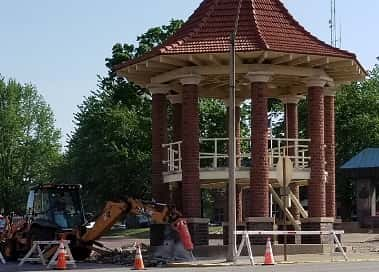 Workers in Albion are removing the concrete apron around the courthouse pagoda.  The pavement will be replaced as part of a major renovation of the historic structure.
After a year of absence, a fireworks show is returning to Fairfield.  The Fairfield City Council has approved a $10,000 show which has been slated for Saturday, July 7. City officials are calling for donations from the public to ensure there are future fireworks shows. Tax deductible donations may be made to the city's recreation fund.
Through an intergovernmental agreement, the Fairfield Fire Department will begin activating the Village of Wayne City's warning siren system in the event of adverse weather conditions.
A jury seated in Wayne County has found an Olney man not guilty of aggravated drunk driving causing a death.  64-year-old Gerald Foster was found not guilty in the May, 2015 death of 19-year-old Brandon Blackford of Olney.  The crash happened around 2:13 in the morning on U.S. Rt. 50 west of Noble.
The Illinois Department of Commerce and Economic Opportunity has announced the awarding of several community development block grants. Locally, $111,018 has been awarded to Big Mound Township in Wayne County to install new rural water lines. In White County, $90,387 was awarded to the City of Carmi for a new sewer lift station.
Frontier Community College's 40th annual commencement ceremony is tonight at 7 p.m. in the east gym of the Fairfield High School.  FCC President Dr. Jay Edgren will preside.
Baccalaureate Services for 2018 Fairfield Community High School graduates has been set for this Sunday evening at 6 p.m. in the east gym of FCHS.  The speaker for the evening will be Jeremy Cline of the Canaan Bridge Church.