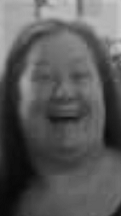 Viola L. Yocum, 58, of Fairfield, died at 2:44pm on Friday, May 11, 2018 at her residence.
Survivors include two sons Dairel (Christina) Groves of Alabama, Elliott (Dawn) Groves of Shumway, IL, one daughter Sara Groves of Fairfield, six grandchildren, two great grandchildren, three brothers Russell (Gabrielle) Groves of Aurora, Colorado, Bobby Groves of Vincennes, Indiana, and Rodger (LaDona) Groves of Omaha, IL, and one sister Louise Laite of Omaha, IL.
Per Viola's request, her body is being cremated with no formal services or burial.
The Johnson and Vaughn Funeral Home is in charge of arrangements.