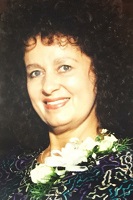 Lasetta Sue Cox (Rose-Bratsch), 76, of Cisne died on May 11, 2018 at the Aperion Care nursing home in Fairfield. Sue grew up on her family's Parkersburg farm.  She was an active member of the West Salem Moravian Church. Later in life she returned to school to study nursing through the continuing education program at Illinois Eastern Community Colleges in Fairfield. In 1977 she graduated from the LPN program and a year later received her RN certification. As a registered nurse, Sue worked many years in various nursing homes in SE Illinois and also in Indianapolis, Indiana. In 1995 she married Glen Cox of Dallas, Texas, and retired to Henderson, North Carolina.  Sue later moved to Cisne, where Glen passed away in 2003.
Sue is survived by her sons and grandchildren: Tony Bratsch (Susie) and granddaughter Rachel of Spirit Lake, Idaho; John W. Bratsch of Cisne; and Curtis Bratsch (Tonya) and grandchildren Brenden and Callie of St. Charles, Missouri. Surviving brothers and sisters: Phillip (Donna) Rose, Parkersburg; John Rose, Nacogdoches, Texas; Peggy Clark, North Fort Meyers, Florida; and Sherry Rose, Indianapolis, Indiana. She is survived also by multiple generations of nieces and nephews from the Rose and Bratsch families.
A graveside service for Lasetta Sue Cox  will be held at the Moravian Cemetery in West Salem on Friday, May 18 at 11 a.m.
Memorials may be made to a homeless shelter/mission of the donor's choice, or funds may be directed to the family (Curt Bratsch) and they will appropriate them to a shelter.
Ingram Funeral Home of West Salem is honored to be entrusted with the arrangements.