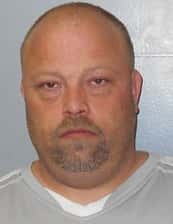 Wayne County State's attorney Kevin Kakac reports two defendants being sentenced to prison following appearances Thursday in Wayne County Circuit Court. Travis W. Woods, 41 of Wayne City has been sentenced to 15 years in prison on a Class-1 felony conviction of criminal sexual assault.  State law requires Woods to serve at least 85% of his time behind bars. After completing his sentence, Woods will have to serve from three years to life of parole.  The judge gave Woods credit for 32 days he spent in the Wayne County jail awaiting disposition of his case.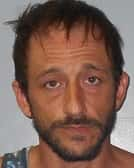 Cody L. Massie, 33 of Fairfield has been sentenced to 18 months in prison after pleading guilty to a class-4 felony charge of being in possession of a controlled substance. Then judge gave Massie credit for four days he has spent in jail awaiting disposition of his case.
Sears in Westport Plaza in Fairfield is closing.  Owners Rusty and Patty Webb cited a weak economy for the closing.  A liquidation sale will start today with a projected closing date of July 23.  Service calls for products sold at the Fairfield store will be referred to Sears stores in Flora, Olney and Princeton, Indiana.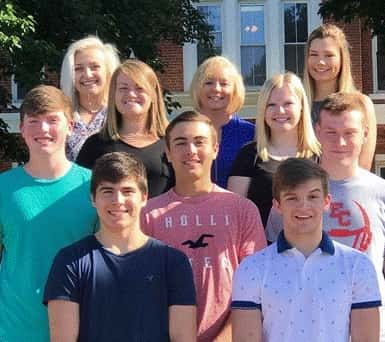 A field crew from the Edwards County Supervisor of Assessments office has started the 2018 Quadrennial property assessment project. The crew (pictured above) will be working across the county taking photographs and measuring all properties in the county.  During a "Quad" year, officials must reassess every parcel in the county, regardless of age, location, size or value of improvements.
27-year-old Cody R. Buchanan of Fairfield was arrested early Wednesday morning on charges of DUI and possession of methamphetamine.  Buchanan was arrested following a traffic stop at W. Curry and Epworth Street.
29-year-old Christopher S. Newman of Sebree, KY has been sentenced to five years in prison after pleading guilty in White County Circuit Court to a class-3 felony conviction of theft.  In addition to time in prison, the judge ordered Newman to pay $1,333 in fines, fees and court costs, which includes $800 restitution to the victim.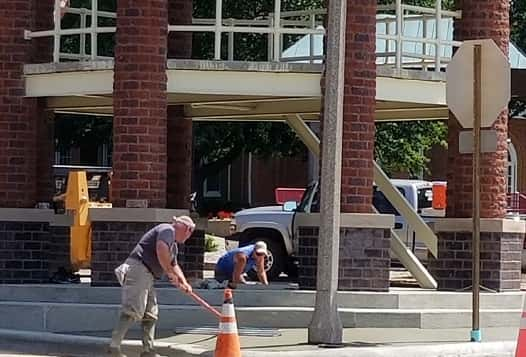 Work continues on the historic Pagoda on the courthouse square in downtown Albion.  Workers from Lear Construction are now pouring a new skirt around the Pagoda along with a new floor. The Pagoda was erected in 1914 as a community project of the Albion Women's Beautifying Club. In years past, the structure had also served as headquarters for the Albion City Police Department.