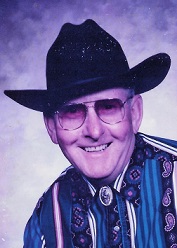 John Robert Bundy, 88, of Kell, died at 8:38 p.m. Sunday, June 10  at his home.  He graduated from Bluford High School, and served in the United States Navy, from 1947 until 1951.  He retired from Community State Bank in Salem.  He was a member of Boyd Christian Church, and loved horseback riding.
In addition to his wife, Loretta K. Bundy, of Kell, Mr. Bundy is survived by one daughter-in-law, Brenda Bundy;  two grandchildren, Derek E. Bundy and wife Shaunda of Salem, and Leigh Ann Bundy of Mt. Vernon;  and four great-grandchildren, Abbie Harris, and Lanie, Libbie, and Owen Bundy, all of Salem.
Funeral Services for John Robert Bundy will be held at 10:00 a.m. Thursday, June 14, 2018, at Osborn Funeral Home in Dix, with burial at Opldyke Cemetery.  Graveside Military Rites will be accorded by American Legion Post #141, of Mt. Vernon.
Visitation will be held Wednesday, June 13, from 6:00 p.m. to 8:00 p.m., at the Osborn Funeral Home in Dix.
Memorial gifts may be made to the Opdyke Cemetery, and will be accepted at the service, or by mail to the Osborn Funeral Home, P.O. Box 130, Dix, Illinois 62830.