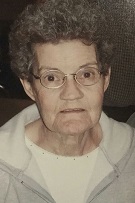 Nancy L Hodges, 86, of Fairfield passed away at 7:26PM on Sunday June 10th at her home.  She had been a waitress at the Uptown Restaurant.
Nancy is survived by Son- Mark (Chris) Noble of Fairfield; Step-Daughter- Lexene Hodges-Miller of Robinson IL; Sister- Juanita Stanley of Fairfield; 22 Grandchildren, 37 Great Grandchildren, and 15 Great-Great Grandchildren also survive.
Funeral services for Nancy L. Hodges will at 3PM Saturday June 16th at Johnson and Vaughn Funeral Home with burial in Maple Hill Cemetery.
Visitation will be from 1PM until the time of service on Saturday at the funeral home.
Memorials may be made to SSM Hospice and will be accepted at the Johnson and Vaughn Funeral Home which is in charge of all the arrangements.