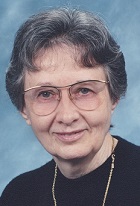 87-year-old Vera "Lucille" Arnold of N. Chili, NY passed away Thursday, June 7, 2018 at Woodside Manor Nursing Home, in Rochester, NY. Lucille loved to read the Bible and books about the many missionaries she had met from working alongside Don as they ministered in various churches throughout their lives.   Lucille moved to the Rochester area in 2010 to be close to her daughter.
Lucille is survived by one daughter, Margaret (Allan) Wells of Rochester, NY; one son, Philip (Joyce) Arnold of Springfield, IL. One brother, Clifton (Bonnie) Burton of Cortland, IN; three grandchildren, Brandon Wells, Nathan and Emily Arnold.
Funeral services for Lucille Arnold will be 11:00am Friday, June 15, 2018 at Pleasant Grove Christian Church Geff with burial at Pleasant Grove Cemetery.
Visitation will be held from 10am until time of the service on Friday, at the church.
In lieu of flowers, memorials may be given to the Anchor Christian Church Building Fund of Rochester, NY or to West Side Christian Church Senior's Ministry of Springfield, IL.
The Hosselton Funeral Home in Cisne is in charge of all of the arrangements.