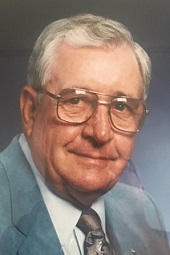 Clarence E. Kern, 88, of Carmi died Wednesday, June 13, 2018, at Deaconess Main Hospital in Evansville, Indiana.    Clarence was a farmer, member of the United Methodist Church and served in the US Army 101st Airborne during the Korean War.  He previously served as a Township Trustee for Hawthorne Township, and was an active member of the Hadi Shrine, and a past member of the VFW and American Legion.
Survivors include his wife, Elizabeth "Liz" Kern of Carmi; and many dear friends including Terry West, Bob Kiesecoms, Connie and Bill Garrison, Ron Martin and family, Mary Ruth and Troy Gothard, and various members of the Drake family from Arkansas, Louisiana and Texas.
Visitation and funeral are Saturday, June 16, 2018, at Cook Funeral Chapel in Carmi, Illinois.  Visitation is 9:30 am, and funeral is 11:30 am.  Burial with military rites will be in Kuykendall Cemetery.
Memorials may be made to Shriners Hospitals for Children – St. Louis, 4400 Clayton Avenue, St. Louis, Missouri 63110.