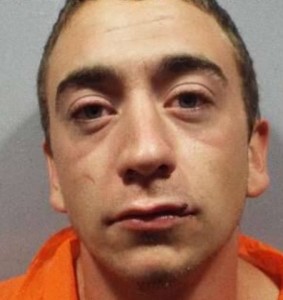 ZACHARY SHOCK CAPTURED: More details have been released in regards to the arrest of 24 year-old Zachary Shock of McLeansboro, who was captured late Friday night in Gallatin County. According to a statement from the Hardin County Sheriff's Department in Elizabethtown, Hardin County Sheriff J.T. Fricker received a tip Friday night, from a local resident of a possible sighting of Shock in a rural area near the Saline County/Gallatin County line. The caller advised Sheriff Fricker that he had spoken with a subject fitting the description of one of the escaped inmates. The man had told the caller he was needing a ride to Hardin County. Sheriff Fricker contacted the U.S. Marshals, who then contacted the Illinois State Police and Gallatin County Sheriff's Department. The agencies, along with Ridgeway and Shawneetown Police Departments followed up on the information and went to search for Shock and apprehend him. At approximately 10:23 p.m., two Illinois State Police District 19 officers located a male subject, walking in the middle of Forest Road, two miles south of Equality in rural Gallatin County. The subject was identified as the escapee Shock and was taken into custody without incident. At the time of his arrest, Shock was armed with a loaded handgun. Shock has been transported to the White County Jail for the Wanted on Warrant Escape charge. Additional charges may be filed. Law enforcement officials continue to search and comb the area for the last inmate still at large, which is Johnny Tipton. The Hardin County Sheriff's Department stated that Tipton was last seen wearing a ball cap, camouflage shirt and pants, carrying a camouflage backpack near the Kedron Road area in Gallatin County. Kedron Road is located south of Equality. Anyone with information regarding the whereabouts of Johnny Tipton, or have spotted Tipton, should contact their local law enforcement agency.
The Wayne County Crimestoppers would like to get a tip on an outstanding case. They are willing to pay $250 for information in the Billy R. Smith case. The number to call is 618-842-9777.
A Geff man has been sentenced to three-and-a-half years in the custody of the Department of Corrections. 27-year-old Cody Buchanan pleaded guilty to DUI and meth charges.
Relief is being sought to help those displaced by a rental house fire Thursday on Southeast Sixth Street. The home is owned by Donna Masterson but the tenants have lost everything and do not have insurance. Kitchen items or gift cards can be dropped off at the Wayne County Courthouse at the Treasurer's office.
The Wayne County Fair continues tonight at the fairgrounds with an antique tractor show beginning at 3:30…and the grandstand event is the Lucas Oil Tractor Pull starting at 6:30. Sunday, the Fairfield Ministerial Alliance will be putting on a gospel concert starting at 6:30.
And don't forget, they are closing Route 45—or south 1st in Fairfield–at the Norfolk Southern rail crossing for maintenance starting on Monday morning. That means you will be detoured through July 13th.