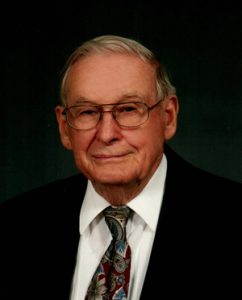 97 year-old Eugene F. "Gene" Gowdy of Carmi, died Wednesday, July 11 at Linda E. White Hospice House in Evansville, Indiana.
Gene was a veteran of World War II. He served in the South Pacific as a member of the Naval Air Corps. He was a lifetime member of both the VFW and American Legion. For a short time, Gene was a distributor for Curtis Candy Company, but he was best known for his work as a mechanic technician for Consumers Gas Company. Gene's church was a large part of his and his wife, Helen's, lives. For many years, he was a Deacon at First Christian Church in Carmi. In his leisure time, he enjoyed gardening.
Survivors include daughters LaVonne (James) Norville of Huntsville, Alabama, Donna (Rick) Floyd of Norris City, Illinois; grandchildren Carla Arnold, Brent (Amber) Floyd, Jeffrey Norville, Joseph (Michelle) Floyd; 11 great grandchildren; and several nieces and nephews.
Visitation and funeral are Saturday, July 14 at Cook Funeral Chapel in Carmi. Visitation is 9-11 am, and funeral is at 11 am. Burial with military rites will be in White County Memorial Gardens.
Memorials may be made to Wabash Christian Village, 216 College Boulevard, Carmi, Illinois 62821, or White County Senior Citizens Center, 113 South Walnut Street, Carmi, Illinois 62821, and will be accepted at Cook Funeral Chapel.
The Cook Funeral Chapel are in charge of all the arrangements.