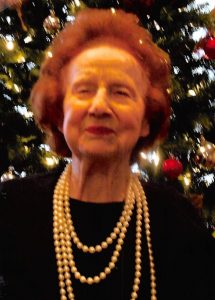 Kathleen Adair Simpson, 90, of Fairfield, died at 11:15 AM, Sunday, September 9, 2018, at GreenTree at Mt. Vernon, in Mt. Vernon, IL.
Kathleen was born on March 25,1928 in Wayne County, the daughter of Emerial Lee (Shorty)Owen, Sr. and Leona (Mason) Owen. At the age of 8 she lost her mother and her home in a tragic house fire. She was the oldest girl and was able to help get the other children out of the burning house through a window.
She worked at the Illinois Department of Public Aid for many years in clerical and caseworker positions. She served as a Golden Friend at Wayfair Nursing Home for several years.  She was married to Lales Leon Simpson, who preceded her in death on May 14,1998. They had one son, Robin Dee Simpson, who also preceded her in death at age 58 on June 4, 2016. She and Robin enjoyed eating at the local restaurants and visiting with the "regulars'".
Lales was a member of the United States Army, serving part of his time in Alaska, where Kathleen joined him, taking a leave of absence from her job at the Illinois Department of Public Aid.  Kathleen and her son Robin attended Ebenezer Methodist Church in rural Wayne County, and were part of a small group keeping that small country church open until Robin's death in 2016. Kathleen turned 90 on March 25, 2018 and a birthday celebration was held at GreenTree, with friends and relatives attending.
Kathleen is survived by four sisters, Carolyn Weger of Midland, TX; Virginia (Bud) Bashore and Shirley (K.D.) Simpson of Fairfield; and Barbara (Scottie) DeWitt of Leesburg, FL. Also surviving is one brother, Richard (Joan) Owen of Fairfield and numerous nieces and nephews.
Preceding Kathleen in death were her parents, stepmother, Dedie Elizabeth Owen, four brothers, Emerial Lee Owen, Jr., Gene Bradford Owen, Rexford Mason Owen, Ronnie Ray Owen and one sister, Sharon (Tom) Witwer. Also, an infant sister, Jerry Ann, and an infant brother, Dennis Russell, preceded her in death.
Visitation will be on Wednesday, September 12 from 5-7 PM, and the funeral on Thursday, September 13 at 11:00 A.M. at Johnson & Vaughn Funeral Home. Burial will be at Maple Hill Cemetery.  Memorials may be made to the church or charity of the donor's choice.