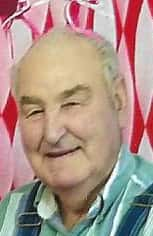 72 year-old James O. "Jim" Eckelberry of rural Mount Vernon, Illinois, died at 6:38 P.M. Monday, September 10 at his home.  Jim was born December 18, 1945 in Rinard, Illinois, the son of the late Joseph and Ozella (Plumbley) Eckelberry.  On October 11, 1968, Jim married Francis (Thompson) Eckelberry in Cisne, Illinois. They were blessed with nearly 50 years of marriage.
In addition to his wife, Jim is survived by his sons, Dave Eckelberry of Woodlawn, Joe Eckelberry and wife, Paula of Woodlawn, and Marty Eckelberry and wife, Missy of Mount Vernon; grandchildren, Megan Eckelberry, Allyson Eckelberry, Tyler Eckelberry, Cody Eckelberry, Savanna Davenport, Kyle Meador and wife, Morgan, and Ryan Meador and wife, Alyssa; great-grandchildren, Blaine Meador and Nolan Meador; siblings, Phyliss Vail of Flora, Rhesa Eckelberry of Flora, and Joe Eckelberry of Flora; father-in-law, Delbert Thompson; and several nieces and nephews.
In addition to his parents, Jim was preceded in death by his mother-in-law, Bettyjane Thompson; siblings, Melba Rowden, Marjorie Kirkman, Thelma Furlow, Eddie Eckelberry, Clifford Eckelberry, Bill Eckelberry, and Martin Eckelberry.
Jim was an active member of Old Union Missionary Baptist Church in Mount Vernon.  He had served as a volunteer firefighter with both the Cisne and Dix Fire Departments. Jim enjoyed singing with the gospel group, Men of the King. He was an avid hunter and fisherman and enjoyed spending time with the Alabama boys.  Jim also enjoyed selling watermelon and all other kinds of produce. He loved and enjoyed spending time with his family, but his grandchildren were the apple of his eye.
Funeral services will be held Friday, September 14 at 1:00 P.M. at Hughey Funeral Home in Mount Vernon, with Reverend Ralph Wilton officiating. Interment will follow at East Salem Cemetery in Mount Vernon. Friends may call at the funeral home Thursday, September 13 from 5:00 to 8:00 P.M. Memorial contributions in Jim's memory can be made to the Old Union Missionary Baptist Church building fund and will be received at the funeral home at any time. 
The Hughey Funeral Home in Mt. Vernon is in charge of all the arrangements.