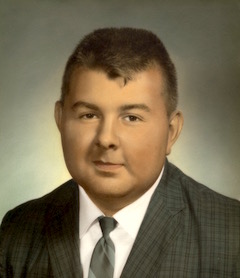 Olin E. Sefried Jr., 72, a resident of Belle Prairie, Illinois, passed away Monday, September 10, 2018 at the Hamilton Memorial Rehab and Health Care Center.
He was born January 30, 1946 in Hamilton County, IL to Olin E. and Clara (Richardson) Sefried.  Olin was responsible for the mowing and upkeep of many cemeteries in the area including Crouch Cemetery.
Olin is survived by several cousins.
He was preceded in death by his parents.
Funeral services will be held Thursday, September 13, 2018 at 11:00 a.m. at the Gholson Funeral Home in McLeansboro with Rev. Robert Sefried officiating.  Visitation will be from 10:00 a.m. until the time of service at the Gholson Funeral Home in McLeansboro.  Olin will be laid to rest at Crouch Cemetery near Belle Prairie, IL.  Memorial donations may be made to Crouch Cemetery and will be accepted at the Gholson Funeral Home.
The Gholson Funeral Home of McLeansboro is in charge of arrangements.