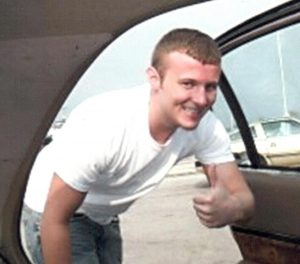 30-year-old Fairfield resident, formerly of Cisne, Kyle Ray Leegaard, died at his home Monday morning, September 17th.  He had graduated from Rend Lake College in May of this year and began working at Champion Lab as a setup operator.
Kyle was born August 21, 1988 in Fairfield, the son of Jimmy Ray Leegaard and Dianna (McClellan) Harris.
Surviving are his parents, Dianna and Tony Harris of Cisne; two sisters, Melissa and husband Billy Stewart of Cisne and Amy Harris of Johnsonville; and his grandmother, Alice Harris of Bluford.
Preceding Kyle in death were his grandparents, George and Dixie McClellan, his father, Jimmy Leegaard and his grandfather, Don Harris.
Private funeral services for Kyle Ray Leegaard will be held at a later date.
Nale's Funeral Home in Fairfield is in charge of the arrangements.