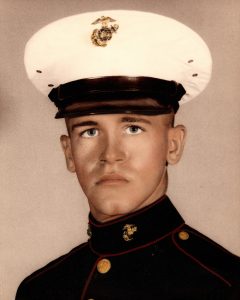 76-year-old Larry Michael Nash, Sr. of Crossville, died Sunday, October 7 at Deaconess Main Hospital in Evansville, Indiana. He was born February 16, 1942, in Bone Gap, Illinois, the son of Gilbert Harold Nash and Ruth (Edge) Nash Graham.
Larry was a Marine Corps Veteran and worked in the Illinois Basin oilfields and was retired from Eastern Services in 2009. He enjoyed collecting military artifacts, rabbit hunting, flying, murder mysteries and watching college football and boxing.
Survivors include sons Larry Michael Nash, Jr., of Crossville, Joshua Daniel Nash of Grayville, Illinois; daughters Lesa Nash Starnes of Belden, Mississippi, Karen Nash Brown of Norris City, Illinois, Linda Nash Youngman and her fiancé Larry Pedrotti, and Nancy Nash, all of Mt. Vernon, Indiana; sisters Shirley Crandall of Texas, Janette Fay Bellamey of St. Charles, Missouri, Wanda Parson of St. Louis, Missouri; special cousin Steve Edge of Evansville, Indiana; 16 grandchildren; four great grandchildren.
He is preceded in death by his parents; infant daughter Lori Michelle Nash; and brothers in law, Doyle Crandall, Don Bellamey and Jim Parson.
Visitation and funeral are Wednesday, October 10 at Cook Funeral Chapel in Crossville. Visitation is 11 am to 1 pm, and funeral is at 1 pm. Burial with military rites is in Mt. Zion Cemetery near Albion, Illinois.
The Cook Funeral Chapel in Crossville is in charge of all the arrangements.