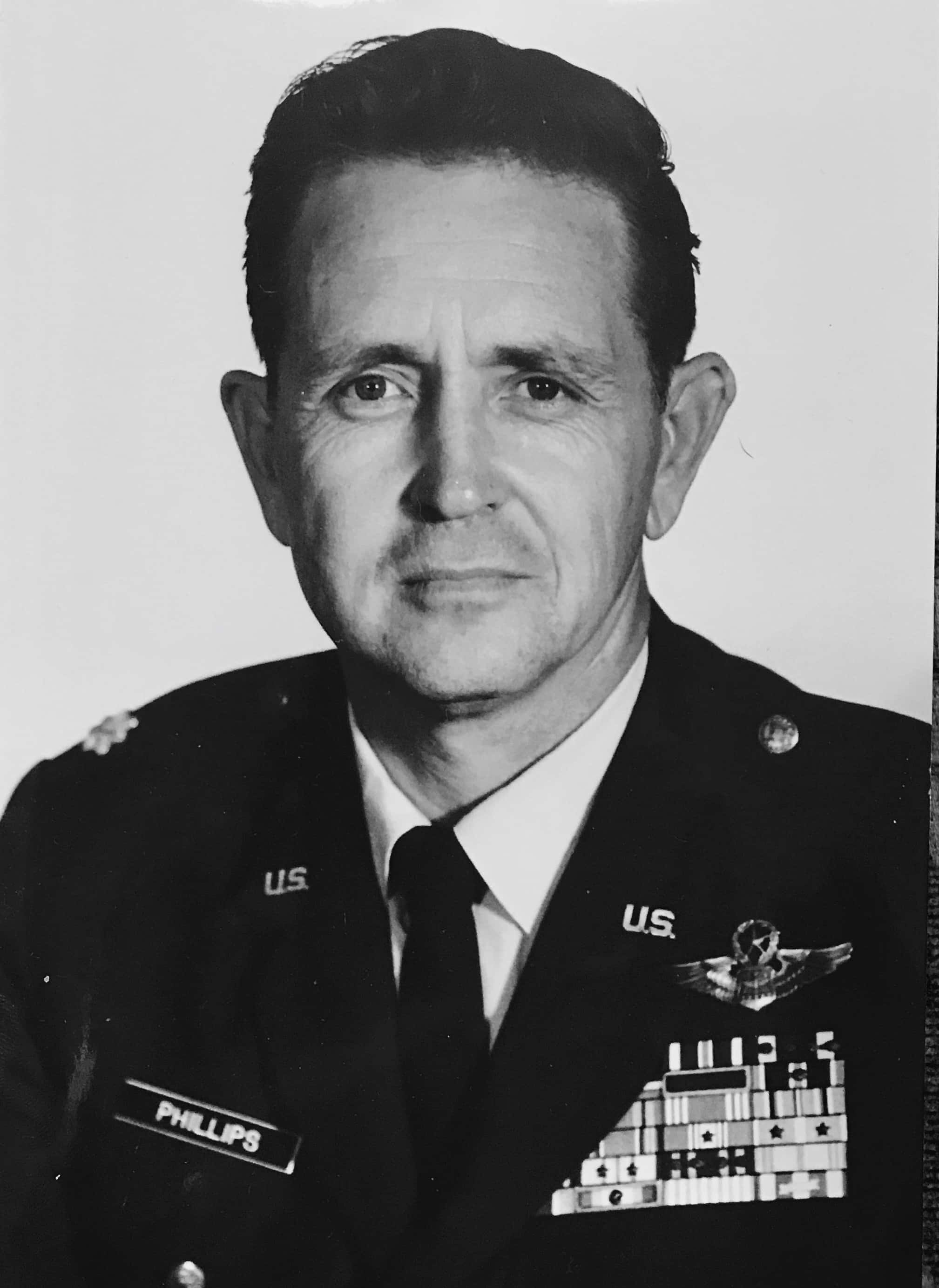 Lt. Col. Martin T. Phillips of Warrensburg, Mo. died on his 93rd birthday, October 8, 2018 at the Missouri Veterans' Home. A career military officer of 33 years, Col. Phillips was a veteran of three wars, serving in World War II, Korea, and Vietnam.
Born in Carbondale, Ill. to Ivan and Beulah (Greer) Phillips, Col. Phillips graduated from Carmi High School in 1943. He studied agriculture at Southern Illinois University and enlisted in the U.S. Army Air Corp. where he served as a navigator during World War II.
Col. Phillips married Cora Jeannene Pollard of Burnt Prairie, Ill. on June 28, 1947 before being called back to active duty for the Korean War. He flew unarmed, unescorted C-47 firefly missions in support of United Nations' front-line troops.
Col. Phillips was in the 31st Air Rescue Squadron at Clark Air Force Base in the Philippines where he assisted in the rescue of Northwest Airlines 292. The rescued flight, full of U.S. school teachers, was featured on the cover of Look magazine.
In 1963, Col. Phillips was a combat crew member in the inaugural class of the Minuteman Missile program at Whiteman Air Force Base. At which time he earned an MBA from the University of Missouri.
During the Vietnam War, Col. Phillips was a squadron executive officer. He navigated 75 combat missions on C-130 aircraft, including the Tet Offensive and the Battle Khe Sanh where he flew low altitude parachute extractions, providing support to trapped Army ground troops.
Col. Phillips was a professor of aerospace studies at The University of Puget Sound and commander of the ROTC program during the tumultuous 1970s. He ended his military career back at Whiteman Air Force Base as code commander. After retiring from the military, he worked as a stockbroker for Merrill Lynch and as a finance professor at the University of Central Missouri.
In addition to his wife, Col. Phillips is survived by three children, Michael Phillips (Lynette) of Alma, Kan., Melinda McMahan of Knob Noster, Mo., and Melissa Morehead (Thomas) of Blue Springs, Mo.; two granddaughters, Ashley Erickson (Nick) of Austin, TX, and Lindsey Warren (John-Kelly) of Tulsa, Okla.; and two great-grandsons, Finnegan and Rhys Erickson. He was preceded in death by his son-in-law Michael McMahan.
Visitation will be held  12:30 p.m. to 1:30 p.m. on October 15, 2018 at Nale's Funeral Home in Fairfield, Ill. Graveside services will follow at 2 p.m. at Liberty Cemetery in Burnt Prairie, Ill.
Donations may be sent to the Missouri Veterans Home at 1300 Veterans Road, Warrensburg, Mo. 64093.
Nale's Funeral Home of Fairfield is in charge of arrangements.