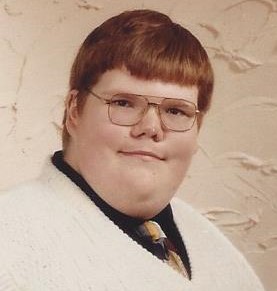 David W. Higgins, 34, of Fairfield, died at 12:25PM on Saturday, December 1, 2018 at his residence. He was a graduate of Fairfield Community High School, Class of 2002, and also a graduate from Frontier Community College, where he worked part-time. David was born on December 11, 1983 in Olney, IL to David Higgins and Nina (Laird) Bailey.
Survivors include his mother Nina Bailey of Fairfield, and several aunts, uncles, cousins, and friends. He was preceded in death by his father, grandmother, and step-father Henry (Bozo) Bailey.
Funeral services for David Higgins will be at 11AM on Wednesday, December 5, 2018 at the Johnson and Vaughn Funeral Home in Fairfield with burial in Maple Hill Cemetery. Visitation will be from 5-7PM on Tuesday at the funeral home. In lieu of flowers, memorials can be made to help with funeral expenses and will be accepted at the Johnson and Vaughn Funeral Home which is in charge of arrangements.