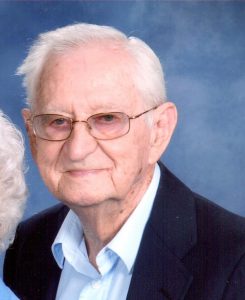 94 year old Fairfield resident, Russell Wilson passed away Wednesday evening, January 9 at Wabash Christian Village in Carmi.
Russell was born July 25, 1924 in Fairfield. He was the son of Earl and Mozella (Venters) Wilson. Russell was a veteran of the United States Marines serving in World War II. He married the former Dorothy Hollinger in Fairfield on January 29, 1947 and she preceded him in death on July 12, 2018. Russell and Dorothy purchased Your Flower Shop in 1953 and operated it for over 60 years, later selling it to their daughter, Melissa. Russell also served the city of Fairfield as a three term mayor, from 1977 until 1989.
He is survived by three daughters, Susan (Loren) Adams of Fairfield, Melissa (Jerry) Garrison of Fairfield, and Jo Wilson (Fred Klehm) of Pittsburg, PA. Seven grandchildren and ten great grandchildren.
Funeral services for Russell will be 2:00 p.m. Sunday, January 13 at Nale's Funeral Home in Fairfield. Friends and family may call from 12:30 p.m. until 2:00 p.m. Interment will follow in Maple Hill Cemetery with Military Rites provided by Anthony Wayne Post 176 American Legion and Wayne Memorial Post 4535 VFW. Memorials can be made to the memory care unit at Wabash Christian Village in Carmi and will be accepted at the funeral home.
Nale's Funeral Home of Fairfield is in charge of arrangements.