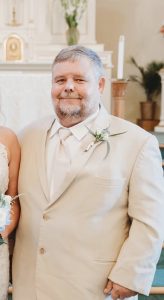 50-year-old A.J. Wellen of Dahlgren, died at 7:15 p.m. Thursday, February 7 at Hamilton Memorial Hospital in McLeansboro. He was born on April 16, 1968 in Mt. Vernon, Illinois to Norbert Joseph Wellen and Patricia Ann (Sager) Wellen. A.J. was a maintenance worker at General Tire in Mt. Vernon and was also a farmer. He was the Crouch Township Road Commissioner. He loved to hunt and fish with his friends.
Survivors include his wife: Natalie Wellen of Dahlgren; two sons: Cole Wellen and his fiance Ali Thompson, and Daniel Wellen; two grandsons: Preston and Tucker Wellen; one brother: Michael Wellen of Dahlgren; two nieces: Elisha Lenard and Courtney Wellen; a mother-in-law: Vicki Terry of Mt. Vernon, IL; a sister-in-law: Stacey (Clint) Hayden of Fancy Farm, Kentucky. Numerous aunts, uncles, and cousins also survive. Preceding him in death were his parents, and father-in-law, Butch Terry.
Funeral services for A.J. Wellen will be held at 10 a.m. Monday, February 11 at St. John the Baptist Catholic Church in Piopolis. The church will open at 9 a.m. Burial will be held at St. John the Baptist Catholic Cemetery in Piopolis with Father Slawomir Ptak officiating. Visitation will be held from 5 to 8 p.m. Sunday, February 10 at St. John the Baptist Catholic Church in Piopolis. A Rosary Service will be conducted at 7 p.m.
The Harre Funeral Home in McLeansboro is in charge of all the arrangements.