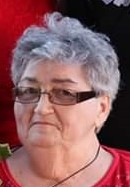 Sue Garrison, 80, of Fairfield passed away at 4:41PM on Sunday February 10th, 2019 at Aperion Care in Fairfield.  She had worked at the Sewing Factory, oversaw Community Care for a time, was on the Ambulance Service for 26 years and was also a Homemaker.  Sue was born on May 24th, 1938 in Fairfield to Seth Allen and Vivian Lynn (Keen) Pike.
Sue is survived by her Daughters-Debra Sue (Bill) Gill of New Harmony IN, Dorothy Lou (Philip) Etheridge of Mill Shoals, and Cynthia Eileen (Gene) Wright of Johnsonville; Sons- William Dale Johnson of Centralia, and Daniel Robert (Teresa) of Pontiac IL; 14 Grandchildren and 15 Great Grandchildren; an Aunt Mary Council of Judsonia Arkansas also survives.
Sue was preceded in death by her parents, Brother- Dale Pike, Grandsons- Aaron Long and EJ Johnson, Great Grandchildren- Michael Krack, stillborn Triplets, and stillborn Twins.
Per Sue's wishes, her body will be cremated, and Memorial Service will be held at 2PM on Friday February 15th at Johnson and Vaughn Funeral Home.