35-year-old Fairfield resident Venancio G. Marquez was arrested yesterday by Wayne County deputies on a Wayne County warrant for attempted murder. Marquez is accused of stabbing a man multiple times in 2015 near Briarpatch Lake. He was lodged in the Wayne County Jail, and his bond was set at $15,020.
Fairfield has received a $146,700 grant from the Illinois Environmental Protection Agency for its wastewater treatment plant. The grant is supplied by the Federal Energy Department's State Energy Program for energy-saving projects. City officials say the city will be responsible for $16,000 of work, but it could save up to $24,000 a year.
A two-vehicle accident in Xenia Wednesday afternoon reportedly led to minor injuries. According to the Clay County Sheriff's Department, 52-year-old Geff resident Roy K. Estheimer failed to stop at a stop sign at Highway 50 and was struck by 75-year-old Roy A. Schlosser. Estheimer was also cited for failure to yield at an intersection.
The 82nd annual meeting of the Wayne-White Electric Cooperative is scheduled for tonight at Wayne City School. Registration will begin at 5, and the program will start at 7. Three directors are up for election at the meeting. Co-op President and CEO Daryl Donjon is also scheduled to speak.
Frontier Community College will be showcasing its unique Electrical Distribution program on Saturday, April 27th, at 10:30 behind its Workforce Development Center. The Lineman Rodeo will showcase the talents of students as they perform tasks like pole climbing and hurt man rescue. Free refreshments will be served during the event.
The Fairfield FFA Horticulture team placed fourth at Section 23 competition recently in Richland County. Team member Brenna Freeman took home third place individually. The Fairfield Livestock Judging Team also participated recently in Section 23 competition, with 11 students on the roster.
The Jasper Jr. High Choir will perform Disney's High School Musical Jr. next Friday and Saturday. The shows will be held at the Fairfield Cumberland Presbyterian Church and will begin at 6:30. Tickets cost $8 for adults and $5 for students. Children under 5 get in free, and concessions will be available for a donation.
North Wayne Unit Schools will conduct Child Find/Preschool Screenings on April 29th and 30th at Johnsonville Elementary School. Screenings for children under three years old will be held on the 29th only. The district says parents should call 673-3044 to make an appointment so children don't have a lengthy wait.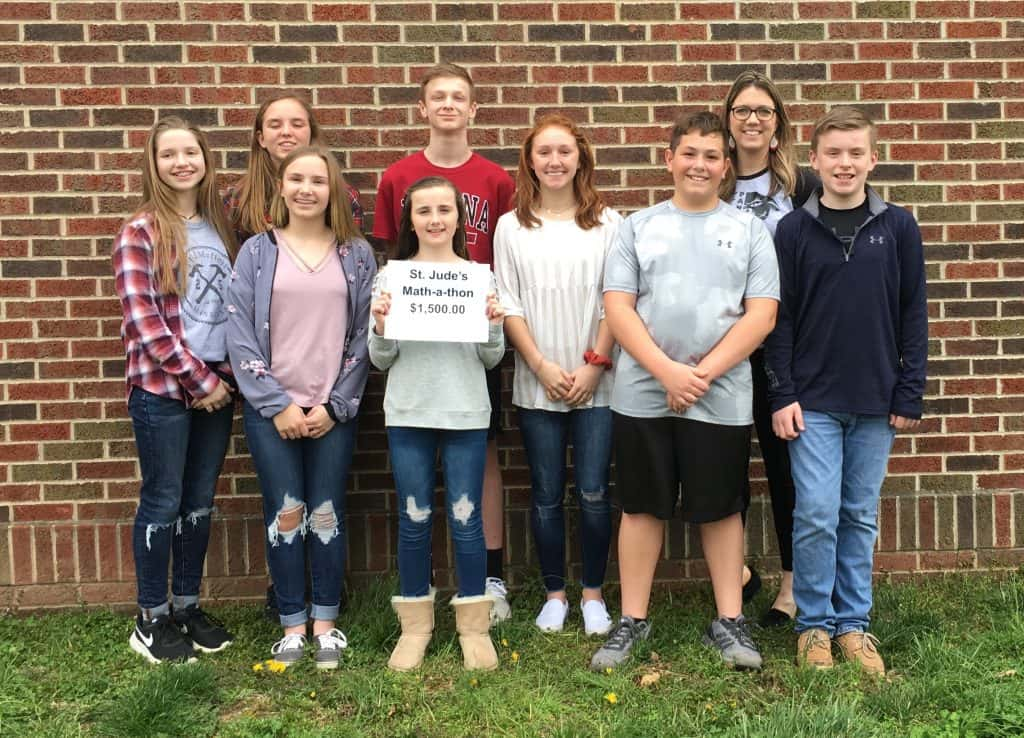 New Hope School's Jr. Beta Club recently hosted their annual St. Jude's Math-a-thon in efforts to raise money for St. Jude's Children's Research Hospital. The school raised $1,500.00 for the cause, exceeding their yearly goal. Pictured, from left to right are committee members, Cori Sutton, Kate Book, McKenna Poole, Trent Bliss, Kinley Poole, Jasmine Vaughan, Landon Lowery, Club Sponsor Britany Pope, and Miller Simpson.
According to a recent study by SmartAsset, Wayne County ranks among the top places in Illinois for lowest debt-to-income ratio. After dividing debt per capita by income per capita in each county, Wayne County ranked fifth in the state with a .56 percentage. Clay County finished first with a percentage of .40.
The FBI has disproven a young man's claim to be an Illinois boy who disappeared eight years ago from the Aurora area. DNA tests yesterday determined that 23-year-old Brian Rini, of Ohio, had claimed to be the missing Timmothy Pitzen yesterday. Rini was recently released from an Ohio prison after serving more than a year for burglary and vandalism.
River stages as of this morning:  Little Wabash, east of Fairfield stands at 23.08 feet, above the 17 ft. flood stage. Meanwhile, the Skillet Fork at Wayne City has a reading of 6.06 feet (flood stage is 15 ft.). The Little Wabash below Clay City is at 19.43 feet (flood stage is 18 ft.).