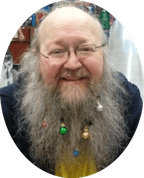 69-year-old Gary Lee Kuhn, a resident of Benton, Illinois, died Monday, April 8 at the Harrisburg Medical Center in Harrisburg.
He was born November 30, 1949 in Salem, IL, the son of Jacob and Alice (Bryan) Kuhn.  Gary was a veteran of the U.S. Air Force having served during the Vietnam War.  He was also an intern for the FBI and worked as a civil servant at Scott Air Force Base for 38 years.
Gary is survived by his mother, Alice Morland of McLeansboro; two sons: Brian (Jody) Kuhn of McLeansboro and Jason (Jennifer) Kuhn of Mt. Vernon, IL; one grandson, Jacob Kuhn; and one sister, Dianne Roberson of Opdyke.  Several nieces, nephews and cousins also survive.
Funeral services will be held Saturday, April 13 at 10:00 a.m. at the Gholson Funeral Home in McLeansboro with Rev. Robert Sefried officiating.  Visitation will be Friday, April 12, from 6 to 8 p.m. at the Gholson Funeral Home in McLeansboro.  Gary will be laid to rest in the Veterans Section of the IOOF Cemetery in McLeansboro with Graveside Military Honors performed by American Legion Post 106 and a U.S. Air Force Honor Team.  Memorials may be made to the Kids at Risk Education Fund and will be accepted at the Gholson Funeral Home.
The Gholson Funeral Home of McLeansboro is in charge of arrangements.