The Fairfield Lions Club will be conducting a free eye screening for Diabetic Retinopathy tomorrow. The testing van will be parked at the southeast corner of the Wayne County Courthouse from 10 a.m. to 2 p.m. Everyone is welcome to participate, though the Lions are targeting those 50 and older.
Wayne County Crime Stoppers is once again offering a reward for information leading to the arrest of the person or persons responsible for a rash of break-ins and thefts. Nine incidents have been reported in the last three weeks, including four today. Anyone with information should call or text Crime Stoppers at 842-9777.
27-year-old Cisne resident Melody M. Hagen pleaded guilty yesterday in Wayne County Circuit Court to a count of criminal damage to property under $500. Hagen was sentenced to one year probation, plus time served, and was ordered to pay $1,162 in fines and court costs.
The Fairfield Community of Christ Church is holding a blood drive today until 5:30 in the Family Life Center. Anyone with questions should contact the American Red Cross at 1-800-GIVE-LIFE. Anyone looking to make an appointment can download the Red Cross Blood Donor app, visit redcrossblood.org, or call 1-800-733-2767.
An unexpected tax-revenue windfall has allowed Governor J.B. Pritzker to call off a plan to reduce pension-payment obligations next year. The state reportedly received $4.1 billion in individual and corporate income tax revenues last month, up 38 percent from last year and $1.5 billion more than projected.
The Wayne County CEO Program is making progress in its plan to begin next school year. Lori Robson, CEO board member, said yesterday that the program will likely have nine students. Though the class size isn't yet verified, Robson said it would likely consist of six Fairfield and three Wayne City students.
Wes and Cheryl Clodfelter recently directed a $2,500 donation to the West Salem Grade School PTO for new playground equipment through America's Farmers Grow Communities, sponsored by the Bayer Fund. The Grow Communities program offers farmers a chance to direct a donation to a nonprofit of their choice.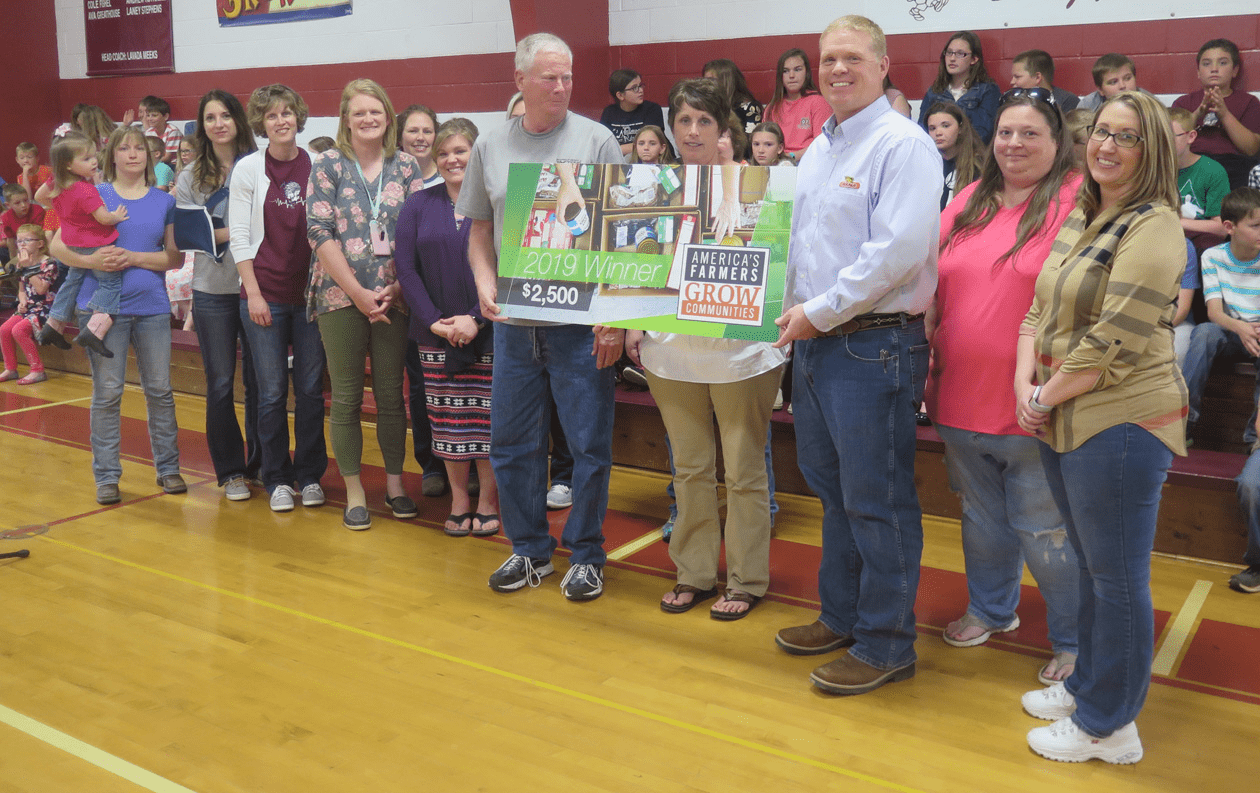 The Fairfield Park District will meet tomorrow evening at 6. The board is expected to review progress on upgrades to baseball and softball diamonds in old business, and set pool hours and fees in new business. Board members will also discuss a truck purchase before adjourning for the night.
Last month was far wetter and significantly warmer than one year ago. At the WFIW/WOKZ studios, we recorded precipitation12 days in April for a total of over seven and three quarter inches of rain, just over five inches more than April 2018. The average high for last month was 68.1 degrees, compared to 62.3 last year.
Rain over the past week averaged more than two inches above normal across the state, keeping producers out of the fields, according to crop statistician Mark Schleusener. Due to wet conditions, only 10 percent of corn and three percent of soybeans have been planted, which is well behind last year's pace, as well as the 1-year average.
Illinois troopers dressed up like construction workers to patrol work zones in a special "Operation Hard Hat" campaign on Monday. In a two hour span, traffic stops produced 10 speeding contacts, one seat-belt violation, and two other equipment warnings. Troopers say the undercover patrols aren't about writing tickets, but they are about keeping people safe.
In response to an accident involving anhydrous ammonia near Chicago this spring, the Illinois Fertilizer and Chemical Association is offering a few reminders. The association says, in the event of a spill, the first thing to do is report the situation to emergency responders. Several people were hospitalized in Beach Park late last month after ammonia was released in a populated area.
River stages as of this morning:  Little Wabash, east of Fairfield stands at 23.66 feet, above the 17 ft. flood stage. Meanwhile, the Skillet Fork at Wayne City has a reading of 6.23 feet (flood stage is 15 ft.). The Little Wabash below Clay City is at 12.29 feet (flood stage is 18 ft.).