The Greater Fairfield Area Chamber of Commerce and Retail Merchants are once again sponsoring the annual Pretty Up Your Place Contest. Categories include a People's Choice Award for the Fairfield area, and Prettiest Front or Back Porch and Prettiest Stoop inside city limits. Nominations are due by June 21st.
The Fairfield Police Department has received reports from citizens that they have received telephone calls soliciting money for a police department. The Fairfield Police Department says it does not solicit money from the public, and anyone who receives such a call should not provide any personal information.
His Little Feet International Children's Choir is returning to Fairfield Tuesday evening at 6:30. The group of children from India, Kenya, Rwanda, and Haiti will perform at the The Journey Church. The community is invited to attend the free event, and a love offering will be taken, with proceeds going to His Little Feet.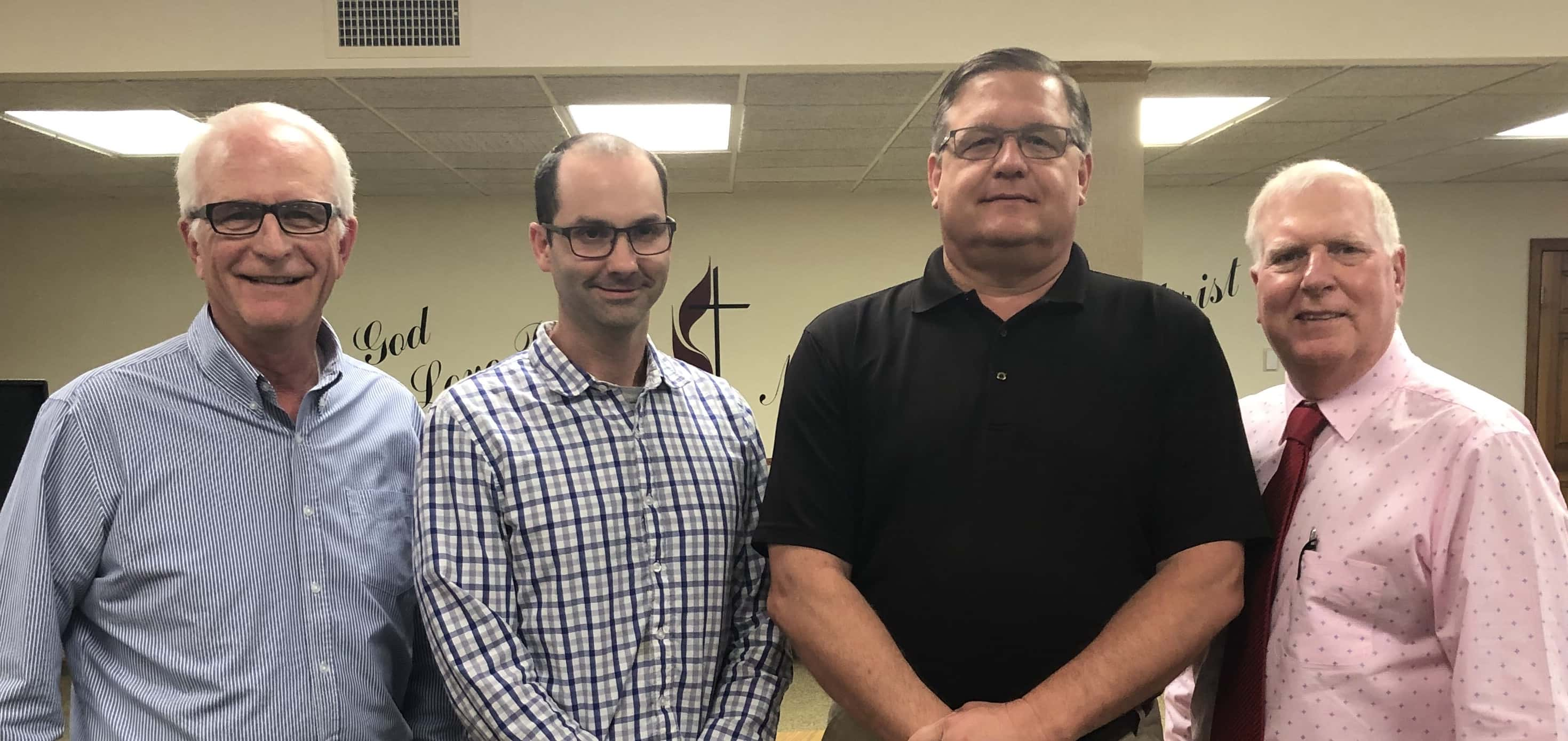 Rotarian Dave Land led the membership of The Fairfield Rotary Club in a noontime trivia contest. The winners of the contest were Jon Farmer, Brad Jesop, and Jay Fyie. Land was in charge of the program. (Photo from L to R: Land, Farmer, Jesop and Fyie).
Five McLeansboro Firefighters were honored Tuesday at the Fallen Firefighters Memorial in Springfield with a Unit Citation Award. Mathew Bryson, Lukas Dale, Jim Morris, Walter Rexing, and Nathan Taylor received the honor in recognition of their response to a house fire last year.
State Representative Darren Bailey has added his voice to those opposing an increase to the state's fuel tax and vehicle registration fees. He joined several other Republicans in saying that the state collected $1.5 billion more than expected last month, so it doesn't need to raise taxes right now.
The Wayne/Edwards County FSA office says farmers who have failed acreage for 2019 wheat or other crops must report the acreage before disposing of the crop. Crop insurance data will also be accepted as evidence that the disaster was timely reported, as long as the report is completed prior to crop disposal.
Levi Belangee, Myranda Kenshalo, and David Harl were each awarded a $3,000 scholarship from New Hope General Baptist Church recently. Belangee will attend Murray State University, Kenshalo will attend Missouri Baptist University, and Harl will take classes from Southeastern Baptist Theological Seminary.
Ed Patton, Lead Instructor for the Frontier Community College Electrical Distribution Systems Program, retired last Friday. Patton was hired as Lab Assistant in the fall of 2008 and became Lead Instructor in 2014. Over his time at the college, Patton saw over 120 students graduate from the one-year program.
The Village of Wayne City will be flushing fire hydrants May 20th through May 24th. Village residents might experience periods of discolored water and pressure fluctuations. This will include the Village of Keenes.
The week is National Hospital and National Skilled Care Nursing Week, and Fairfield Memorial Hospital has been celebrating with events each day at the hospitals and its clinics. The FMH Administration and Board of Directors would like to thank the over 330 employees for their dedication to positively influence the health of those served by the hospital's various departments.
Temperatures are expected to be on the rise for the last half of May for most of Illinois, according to meteorologist Eric Schmidt with EJS Weather in Newton. He also said dew points will be increase as the month wears on, and there will likely be intermittent rain shower activity for the remainder of the month, as well.
River stages as of this morning:  Little Wabash, east of Fairfield stands at 14.51 feet, above the 17 ft. flood stage. Meanwhile, the Skillet Fork at Wayne City has a reading of 8.05 feet (flood stage is 15 ft.). The Little Wabash below Clay City is at 8.15 feet (flood stage is 18 ft.).