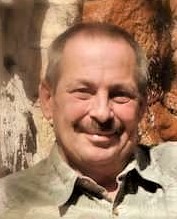 Curtis R. Ewing, 62, of Fairfield, died at 1:40AM on Monday, May 20, 2019 at his home. He had been an oilfield fracking engineer for Fairfield Acid and Frac Co for over 20 years and, most recently, had worked for Reliable Oilfield Services in Fairfield. Curtis was born on February 14, 1957, in Fairfield, to Earl "Bud" and Delta (Meritt) Ewing. He was married to Tammy (Wiser) Ewing.
Survivors include his wife Tammy of Fairfield, one son Heath Ewing of Princeton, IN, one step-son Caleb Dawson of Boulder, CO, one step-daughter Amanda Stopher of Paducah, KY, three grandchildren: Jack Stopher, Xander and Mason Ewing, one  brother Marty (Crystal) Ewing of Fairfield and one sister Trudy (Charles) Ewing-Millburg of Punta Gorda, FL, and a niece Mahala "Gomer" Ewing of Fairfield. He was preceded in death by his parents.
A graveside service for Curtis Ewing will be held at 10AM on Friday, May 24, 2019 in Maple Hill Cemetery. Family and friends are asked to go directly to the cemetery. A visitation will be held from 5-7PM on Thursday, May 23rd at the Johnson and Vaughn Funeral Home in Fairfield. In lieu of flowers, memorial donations can be made to Autism Speaks and will be accepted at the funeral home or at the graveside service. The Johnson and Vaughn Funeral Home is in charge of arrangements.