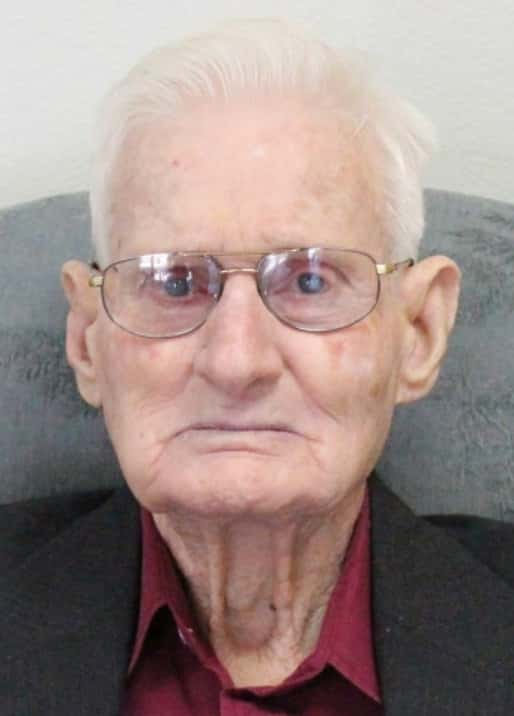 92-year-old Wayne City resident Stanley Matthews passed away early Friday morning, June 7, 2019, at Cisne Rehab & Health Care Center in Cisne, Illinois.
Stanley was born October 14, 1926 in Wayne County, Illinois, to Roy and Bertha (Gay) Matthews. Stanley married Georgia Helen Bullock on August 14, 1950 in Rockville, Indiana, and she preceded him in death on March 29, 2015.
Stanley had worked in the shipping department at H.B. Williamson Company and for the village of Wayne City's water department for several years.  He was also a lifelong farmer and a veteran of the United States Army. He was a member of the Wayne City Baptist Church.
Stanley is survived by two daughters Diana and her husband Steve Weber of Wayne City, and Ruth and her husband Bo Greenwalt of Morrison, IL; two sons, Jack Matthews of Rock Falls, IL, and Curt and his wife Kim Matthews of Odin, IL; one brother, Roland (Slim) Matthews of Fairfield; one sister, Leta Bozarth of Mt. Vernon, IL; 11 grandchildren; and several great grandchildren and great great grandchildren.
Stanley was preceded in death by his parents and wife, Helen.
A celebration of life service for Stanley will be held at 11:00am Thursday, June 13th, 2019 at Archie L. Sanders Memorial Chapel in Wayne City with Bro. Ron White officiating. Burial will follow in Thomason Cemetery, with military rites provided by Anthony Wayne Post 176 American Legion and Wayne Memorial Post 4535 VFW.  A visitation will be held from 10:00am until the time of service at the Chapel. Memorials may be made to the Helping Hands Ministry in Odin, IL and will be accepted at the Chapel.
Nale's Funeral home of Fairfield is in charge of the arrangements. Online condolences may be given at www.nalesfuneralhome.com.