Several Wayne County 4-H shows have been held at the Wayne County Fairgrounds in recent days, including the 4-H Horse Show, Poultry Show, and General Projects Show. Results from each show may be found in the photos below, or on the WFIW Radio Facebook page.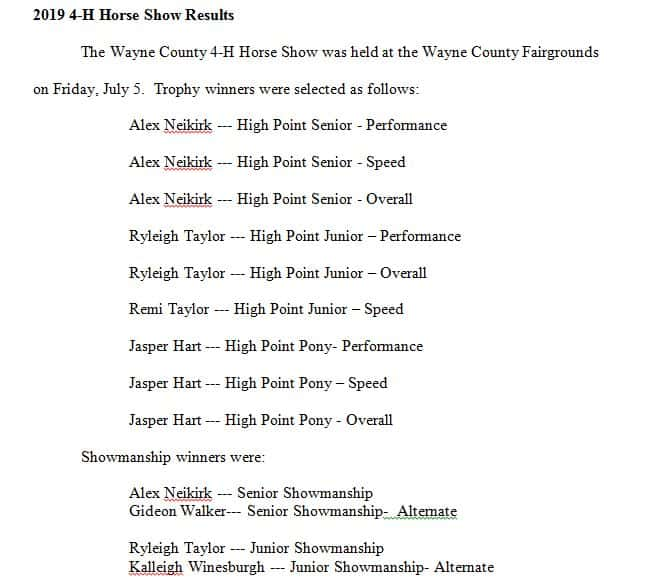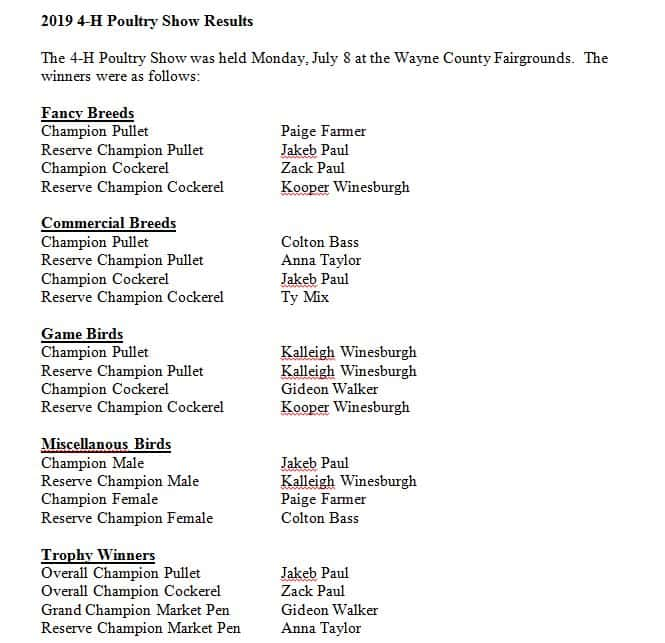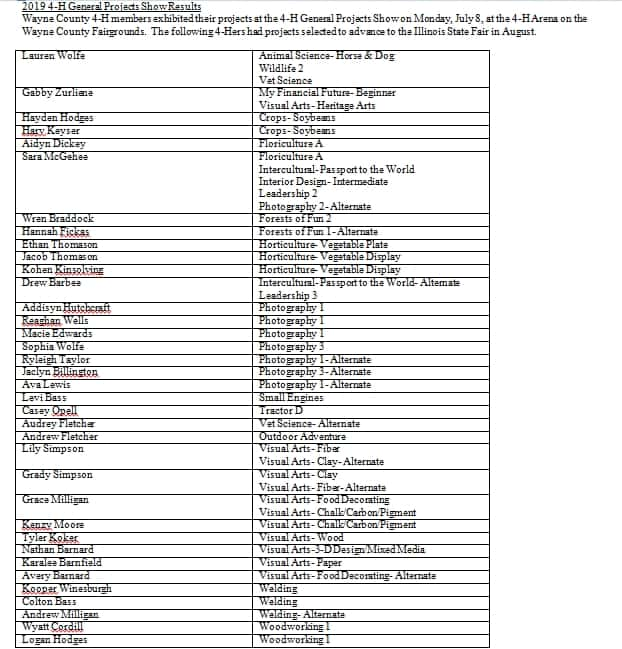 According to a Facebook post from former Wayne County Sheriff Sonny McCulley and his wife Janet, the Wayne County Illinois Separation movement has enough signatures to put a referendum on the 2020 election ballot. The separation movement aims to detach Chicago from the rest of Illinois.
31-year-old Corey L. Van Avery and 22-year-old Cody D. Sechrest were booked in the Wayne County Jail yesterday morning. They were transported from Jefferson County on Wayne County warrants for failure to appear in court for traffic offenses. The two were held in the jail, pending the posting of bond.
Illinois Secretary of State Jesse White said yesterday that his office does not share information with any law enforcement agency regarding a person's legal status in the U.S. White did say his office cooperates with authorities if someone is being sought by a law enforcement agency for criminal activity, however.
State Representative Darren Bailey was in Fairfield yesterday to announce his run for an Illinois Senate Seat in the next election. Bailey hopes to replace Senator Dale Righter, who will not seek re-election. Bailey said he anticipates an official statement as to who will run for his Representative seat very soon.
The Fairfield City Council will meet tonight at City Hall. The council is scheduled to hear an update on the city's flooding issues, and Mayor Maguire said the city would likely be able to implement some easy fixes to help mitigate some of the issues. Further research into more wide-reaching work is still expected.
Two ordinances are expected to be amended at the council meeting, as well. Aldermen are expected to change the city's public drinking ordinance to allow the consumption of alcohol in public view. A change to the trailer ordinance is also anticipated, which would allow city officials to inspect certain trailers.
Some good signs have been reported for some farmers for the Illinois wheat crop. Kyle Brase is a seed rep near Edwardsville, and he said the rains this year caused concern for several reasons over the past few months. However, he also said wheat in his area has yielded well above what was expected.
A plant pathogen that causes an invasive tree-killing disease has been found in Illinois. The Illinois Department of Agriculture says the pathogen that causes sudden oak death has been confirmed in ornamental plants at 10 Walmart stores and one Hy-Vee, though no oak trees have been infected so far. The disease reportedly poses no threat to humans, animals, or food sources.
River stages as of this morning:  Little Wabash, east of Fairfield stands at 23.95 feet, above the 17 ft. flood stage. Meanwhile, the Skillet Fork at Wayne City has a reading of 6.19 feet (flood stage is 15 ft.). The Little Wabash below Clay City is at 12.98 feet (flood stage is 18 ft.). Bonpas Creek at Browns reads 13.26 feet, and the Little Wabash at Main Street in Carmi reads 27.58 feet.