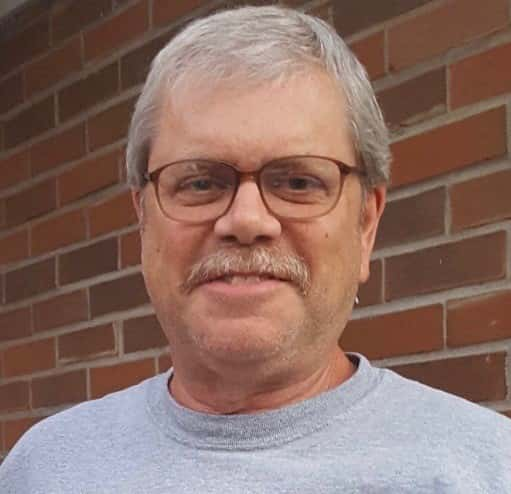 James "Jim" R. Griffith, Jr., age 64, passed away on July 8, 2019 in Evansville, IN after a brave, brief 3½ month battle with pancreatic cancer.
Jim was born on September 4, 1954 to James and Carolyn Griffith in Fairfield, IL. He graduated from Fairfield Community High School's class of 1972.  Jim worked at Champion Laboratories in Albion, IL for 42 years before retiring in 2017.
Jim and his wife Peggy would have celebrated their 25th anniversary on August 20. Jim enjoyed time with his family, playing the guitar, listening to "good" music-especially the blues, and was a fan of the St. Louis Cardinals and St. Louis Blues. Jim was an avid car fan and searching for the perfect vehicle for his family members was one of his favorite hobbies.
Jim is survived by his wife Peggy Griffith of Evansville, parents James and Carolyn Griffith of Fairfield, IL, daughter Talisa (Sean) Sandwell of Evansville, brother Clark (Trisha) Griffith of Fairfield, stepchildren Eric (Suzanne) Glover of Grayville, IL, Jennifer Dreblow, Jamie Glover, and Kristol Elliott all of Evansville, grandchildren Megan & Kyle Sandwell, Ethan & Taylor Glover, Natalie Richter, Ellie Mills, Aaliyah, Ainsley, & Vance Glover, and Olivia & Knox Dreblow, mother-in-law Eunice McCarty, brother in law Dale McCarty of Somonauk, IL, sister-in-law Crissy Thomas of Bone Gap, IL, special aunt Jean Griffith of Fairfield, along with several close nephews, nieces, and cousins.
Jim was preceded in death by his brother William "Brent" Griffith, and grandparents William Griffith, Irene Griffith, and Dorothy Kutz.
The family would like to thank Dr. Christopher Braden and the medical staff at the Linda E. White Hospice House for their expertise, support, and the loving care they gave Jim and our family.
Funeral services will be held on Thursday, July 11 at 1 PM at Johnson & Vaughn Funeral Home in Fairfield, IL, with visitation from 11 AM until the time of service. Burial will follow in Maple Hill Cemetery in Fairfield
In lieu of flowers, the family asks for donations to the Linda E. White Hospice House, c/o Deaconess Foundation 600 Mary St., Evansville, IN 47710 or online at www.deaconess.com/giving.