Three Mt. Erie residents were taken to an Evansville hospital after a two-car crash late Monday night. 55-year-old Debra B. Churchill and 63-year-old Myrtle L. Kieser reportedly collided near Mt. Erie after Churchill stopped to help another motorist with a flat tire. A passenger in Churchill's vehicle was also taken to the hospital.
The Wayne County 4-H Sheep, Goat, and Beef shows were held yesterday at the Fairgrounds, as was the 4-H BBQ Chicken Cooking Contest. In the BBQ Chicken Contest, Ryleigh Taylor won first place, Callen Robbins second place, and Keegan Smith third place. Results from the other shows may be found in the photos below, as well as on the WFIW Radio Facebook page.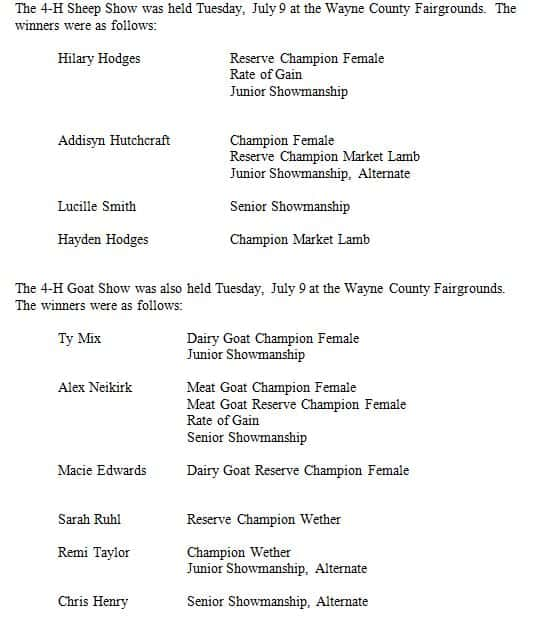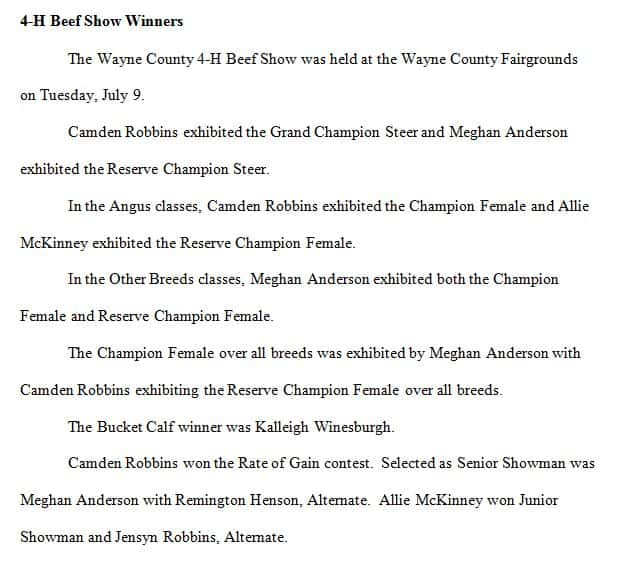 The Edwards County 4-H program held its General Projects Show yesterday at the County Financial Hall Building on the Edwards County Fairgrounds. Results from that show may be found below.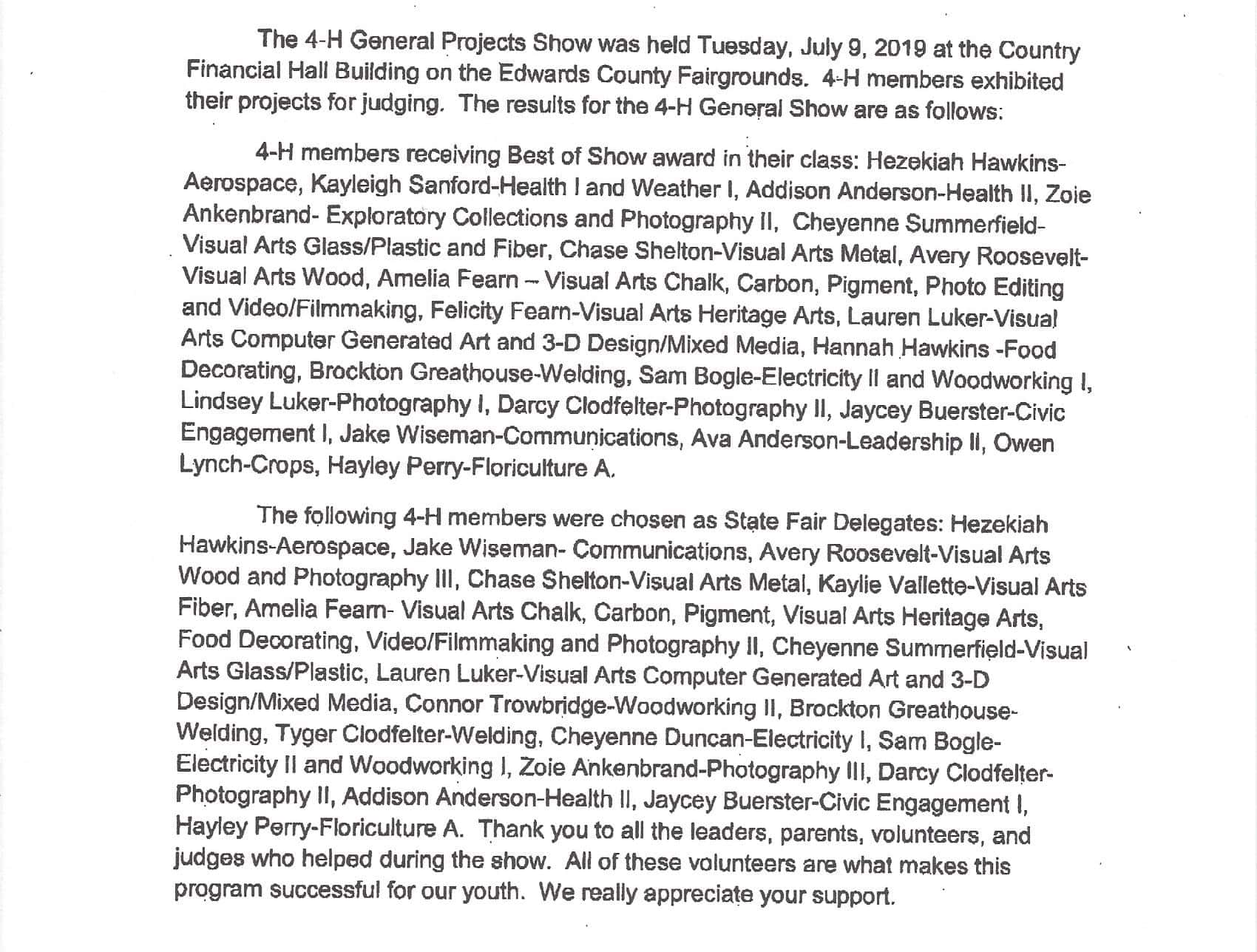 Two people were booked in the Wayne County Jail yesterday and overnight. 24-year-old Thomas L. Hatcher was arrested on a Wayne County failure to appear warrant for aggravated battery. 32-year-old Shania J. Buchanan was arrested for violating an order of protection and on a body attachment.
The Fairfield Community of Christ Church will host a blood drive next Wednesday, July 17th. Porkburgers will be served to all presenting donors, and door prizes will be awarded. All blood types are needed. People may schedule an appointment online at redcrossblood.org or by phone at 838-9873.
The Fairfield City Council met last night and heard an update on the city's flooding issues. Engineers explained that the goal was to handle 1-2 inches of rain in a short period of time. Immediate help would come from cleaning drains and culverts to alleviate the strain on the city's systems, and more work is expected in the future.
The council also approved several action items on the agenda, including changes to the city's trailer and public drinking ordinances. In other business, Mayor Brent Maguire announced that electronic copies of utility bills are now available, and people should contact City Hall for further details.
The Wayne County Fair is over halfway finished, and it continues today with 4-H swine and rabbit shows in the morning and afternoon. Go-Cart Racing is tonight's Grandstand Activity, and Fair Board President Gary Carter says the event is new this year. It is scheduled to begin at 7.
Frontier Community College will hold a two-day volleyball camp on August 1st and 2nd for students entering grades 1-8.  Campers who register by Friday will be guaranteed a free t-shirt. Pre-registration may be completed at fccbobcats.com; parents are also welcome to do same-day registration.
According to the latest weekly crop report, 93 percent of soybean acres statewide have been planted compared to 99 percent normally; 86 percent have emerged, two percent have bloomed, and 38 percent is rated in good to excellent condition. 95 percent of corn has emerged, four percent is silking, and 37 percent is rated in good to excellent condition. Average statewide topsoil moisture declined to six percent short, 66 percent adequate, and 28 percent surplus.
State Representative Terri Bryant reportedly met with officials from Governor J.B. Pritzker's office on Monday regarding the cancellation of the Confederate Railroad performance at the Du Quoin State Fair. Bryant said there was a double standard in place by cancelling the group for having confederate flags on an album cover while allowing Snoop Dogg to perform at Springfield with controversial images of his own on album covers. Bryant was told the decision to cancel Confederate Railroad was made by the Governor's office, not from local fair officials.
River stages as of this morning:  Little Wabash, east of Fairfield stands at 23.56 feet, above the 17 ft. flood stage. Meanwhile, the Skillet Fork at Wayne City has a reading of 5.72 feet (flood stage is 15 ft.). The Little Wabash below Clay City is at 9.12 feet (flood stage is 18 ft.). Bonpas Creek at Browns reads 10.09 feet, and the Little Wabash at Main Street in Carmi reads 26.66 feet.