Cory Musgrave, Senior Pastor at New Beginnings Church, announced his intention to run for the 109th District State Representative seat earlier today on "Morning Coffee." The seat is currently occupied by Darren Bailey, who announced his intention to run for a seat in the State Senate earlier this week.
One man was taken to the Fairfield Memorial Hospital Emergency Room after a three-car accident yesterday at Cline's Corner. Police say 36-year-old Peter J. Daubs was struck in the rear by 24-year-old Tyler J. Fields while following a slow-moving farm implement. Fields was cited for failure to reduce speed.
The City of Fairfield would like to remind contractors and residents that the City is not responsible for any yard waste or debris left by contractors. This includes, but is not limited to, grass clippings, brush, and limbs. Contractors must dispose of yard waste and debris themselves. Questions or concerns can be directed to City Hall at 842-2294.
The Wayne County 4-H Rabbit and Swine shows were held yesterday at the Fairgrounds. Results of those shows may be found in the photos below. 4-H activities will largely wrap up today, as awards will be given at 5 this afternoon, and the 4-H Foundation Livestock Auction will begin at 5:30. The final 4-H activity will be clean-up tomorrow. Tonight's Grandstand Activity will be the Mini Sprints, which are scheduled to begin at 7.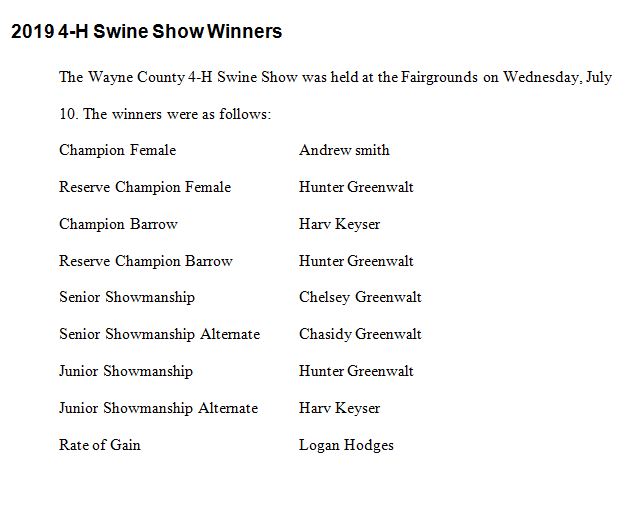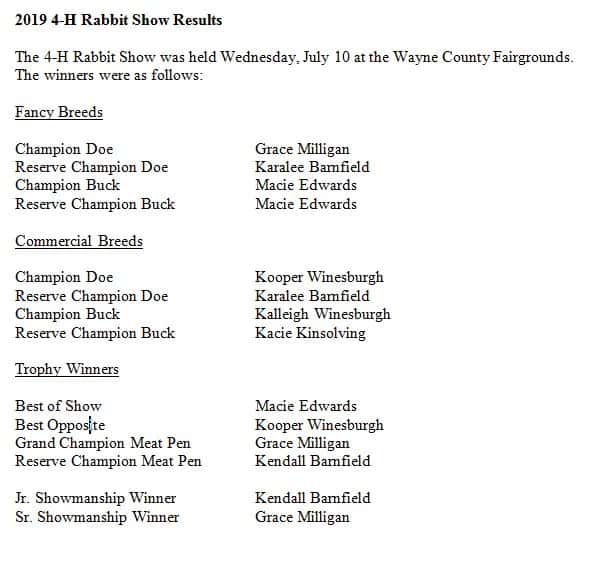 Fairfield Memorial Hospital is reminding Wayne County residents that it is a designated cooling center. The hospital cafeteria is open from 6:30 a.m. to 8:30 p.m. for people needing relief from extreme heat, and it will remain open throughout the summer. Ice water and ice tea will be available to all visitors.
Springfield Attorney Dan Schuering spent two hours last night detailing his recommendations for Fairfield regarding its TIF situation. The City will now check the history of TIF to determine several things, including its history regarding surplus funds. Taxing bodies believe they are owed 40 percent of collected TIF money, but no money has been shared by the City in two years.
The Wayne County Board will meet tonight at 7. Board members are once again slated to hear from several residents about their concerns over county law enforcement. A discussion concerning re-forming a Jail and Sheriff Advisory Committee is scheduled, as well. The board is also expected to reappoint a County Highway Engineer.
Registration for students in the Jasper School District will be held on July 23rd from noon to 6 at Jasper School. Children five years old on or before September 1st are eligible to attend school this year. The $35 fee for the year will be payable on the 23rd, and the first day of school at Jasper will be August 16th.
In other Wayne County registration dates, Geff will hold registration today from 8:30 a.m. to 6 p.m. Fairfield Public School District 112 will hold its registration on July 16th from 10 a.m. to 6 p.m. and from 8 to 1 on July 17th. FCHS will have registration on July 30th from 1 to 6 p.m. and on the 31st from 10 a.m. to 2 p.m.  New Hope and Wayne City will have theirs on August 1st from 11 to 6 and 11 to 7, respectively. North Wayne Schools will be on August 7th from 1 to 3 and 4 to 6.
The National Weather Service in Lincoln says the rainy pattern for central Illinois will likely continue in July, and the entirety of the Corn Belt could be in for another wet month. However, the NWS did say the weather could return to more typical summer conditions at the end of the month and into early August.
Illinois is temporarily unable to pay unemployment benefits and accept any new unemployment claims or mandatory certifications through its website or mobile site. The state estimates payments will be delayed for about 29,000 people, but the Department of Employment Security expects the issues to be resolved by the end of the week.
River stages as of this morning:  Little Wabash, east of Fairfield stands at 22.78 feet, above the 17 ft. flood stage. Meanwhile, the Skillet Fork at Wayne City has a reading of 5.51 feet (flood stage is 15 ft.). The Little Wabash below Clay City is at 7.62 feet (flood stage is 18 ft.). Bonpas Creek at Browns reads 4.66 feet, and the Little Wabash at Main Street in Carmi reads 25.58 feet.