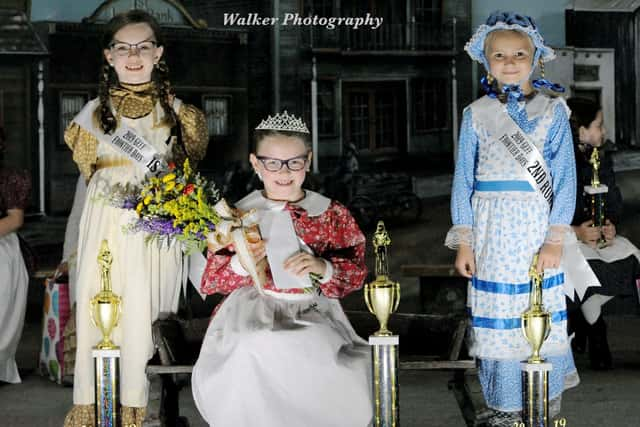 Emersyn Barbre, seven-year-old daughter of Chad and Jessica Barbre of Geff, has been crowned this year's Little Miss Frontier Days to kick off the 2019 Geff Frontier Days celebration.  First runner-up was Bristol Harvey, eight-year-old daughter of Patrick and Jennifer Harvey of New Hope, and second runner-up was Madyson Flanagan, six-year-old daughter of John and Meredith Flanagan of Geff.  Also held Friday was the Best Grandma Contest.  The Most Humorous and Overall winner was Gina Spicer of Cisne.  Best Smile award went to Alice Bruce of Fairfield, and Best Outfit went to Patti Owen of Fairfield.  A full day of activities will be held today at the Geff Frontier Days, including a car and truck show, serving of the ham and bean dinner, the parade and a performance by Dennis Stroughmatt and Doug Hawf.
51-year-old Michael A. Lancaster of Mt. Carmel, IL was arrested Friday morning by Mt. Carmel Police after police say he repeatedly shot through a door at the Mt. Carmel Super 8 Motel.  When police arrived on scene, Lancaster was found on the outside of the property with a loaded 9 mm handgun in his possession.  He was taken into custody, and after police obtained a search warrant and searched Lancaster's room, they found ammunition and suspected methamphetamine.  Lancaster was taken to the Wabash County Jail, and faces charges of unlawful use of a weapon by a felon, aggravated discharge of a firearm and possession of meth.
Carmi Police Chief Jason L. Carter is alerting the public to a scam in the area.  Carter says his department was alerted to a scam occurring via Facebook Messenger, with the message informing the receiver of a Government Grant that the "friend" had just received and gives a dollar amount that the "friend" received, normally over $50,000.  The "friend" then directs you to a person to contact if you're interested in receiving the grant, and eventually you're asked to provide several types of information, inclduing Steam Cards and Google Cards as part of a delivery fee.  Police remind the public to never give out personal information or bank account information over the phone to someone they don't know.
The World Issues and FCHS Student Council are teaming to sponsor a Hurricane Relief Drive at the school.  Students should bring their items to their Seminar Class by September 23rd.  The top class for each grade will receive a prize, and several different items will be accepted, with a point-system to be used to determine prize winners.  A full list of acceptable products can be found on the FCHS Facebook page.
Former U.S. Attorney for the Southern District of Illinois, Courtney Cox, has announced he will seek the Republican nomination to run for election as 2nd Circuit Judge in the March 2020 primary election.  Cox is a native Southern Illinoisan, and was sworn in as U.S. Attorney in 2007 by the Federal District Court and served as the chief law enforcement officer and prosecutor for the Southern District of Illinois.  Under his leadership, the office successfully prosecuted the former Gallatin County Sheriff who was convicted of selling drugs while in office.  Cox currently resides in Benton, IL.
Area river stages as of this morning:  Little Wabash River east of Fairfield, 5.84 feet.  Flood stage 17 feet.  At Clay City, 5.23 feet.  Flood stage is 18 feet.  At Carmi, 3.93 feet.  Flood stage 27 feet.  Skillet Fork at Wayne City, 5.07 feet.  Flood stage 15 feet.  Wabash River at Mt. Carmel, 4.03 feet.  Flood stage 19 feet.