The Wayne County Board will meet tomorrow night at 7 with a light agenda. The only item the board has scheduled to discuss this month comes from the Building and Grounds Safety committee, which will address flooring issues in the courthouse. Several rooms are reportedly infested with black mold.
According to Kevin Leonard with the Fairfield Water Department, the 500 block of Northwest Sixth Street is under a boil order until further notice. Residents in the affected area should be sure to boil water to be used for human consumption.
30-year-old Tiffany M. Morse was sentenced to prison yesterday in Wayne County Circuit Court. She pleaded guilty to a count of possession of less than five grams of meth. Judge Michael Molt sentenced Morse to three years in prison, followed by one year of mandatory supervision upon her release.
Illinois State Police District 19 has released its activity and enforcement figures for the month of August. Troopers recorded 1,503 incidents during the month, including 354 speeding citations and four DUIs. Troopers also investigated 27 traffic crashes last month, including one that resulted in a fatality.
The annual meeting of the Kaskaskia River District United Methodist Women will be held tomorrow at the Centralia Cornerstone United Methodist Church. Registration will begin at 9, and the meeting will begin at 9:30. Reservations are appreciated, and they may be made by calling 532-3207.
The Fairfield City Council met last night and heard bad news regarding some of its poles on the city's south transmission line near I-64. Some of the poles are beginning to lean, bringing the high power line close to the ground, and the line has been shut down. Aldermen approved a repair of the line at a cost of $32,290.
The council also held a discussion on yard waste pickup. Mayor Brent Maguire said that adding a new person at the Street and Bridge Department to facilitate the service would cost at least $61,000. No decision was made, and the matter will come before the council again at a later date.
The Edwards County corn yield survey took place yesterday. The 2019 county corn average was estimated at 144.86 bushels per acre, down from the 2018 yield of 168.6. The highest township yield was in Bone Gap at 157.89 bushels per acre. Shelby was the lowest at 130.45 bushels per acre.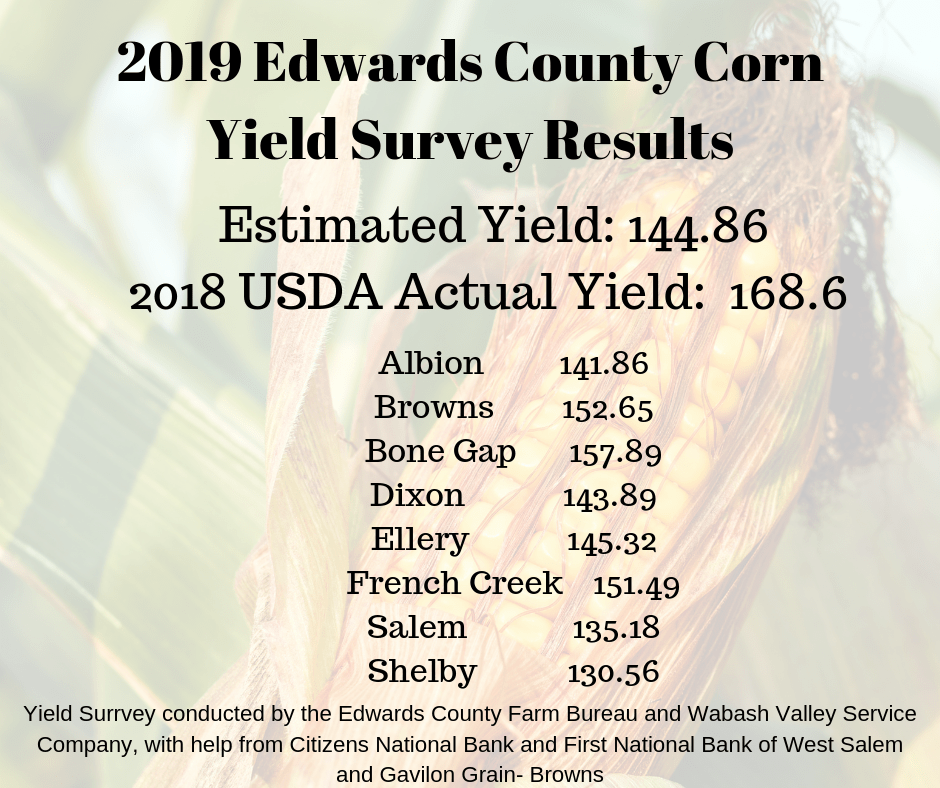 The Fall Fun Fest kicks off tonight in downtown Fairfield with Church Night Gospel Music in the Entertainment Tent. The event will begin at 6:30, and there will be a community choir and a children's choir. The event and choirs will be presented by the Fairfield Ministerial Alliance.
Crop conditions have declined, according to the latest statewide weekly crop report. Corn progress continues to lag behind, with 88 percent of the crop in the dough stage, 53 percent in the dent stage, and 38 percent rated in good to excellent condition. The soybean crop also fell slightly to 41 percent in good to excellent condition, and three percent of the crop is turning color. 90 percent of soybeans are setting pods.
Before making a donation to help those affected by Hurricane Dorian, the Better Business Bureau says people should take the time to ensure a charity is legitimate. The BBB says fundraising efforts come with disasters, but scam artists come with fundraising efforts. The organization says people should be especially wary of donation-seekers utilizing media such as Twitter and Facebook.
River stages as of this morning:  Little Wabash, east of Fairfield stands at 4.99 feet, below the 17 ft. flood stage. Meanwhile, the Skillet Fork at Wayne City has a reading of 5.04 feet (flood stage is 15 ft.). The Little Wabash below Clay City is at 4.65 feet (flood stage is 18 ft.). Bonpas Creek at Browns reads 0.85 feet, and the Little Wabash at Main Street in Carmi reads 3.76 feet.
Today's crude oil price is $50.25, down $0.75 from yesterday. The October crude oil price is $57.92, down $0.09 from yesterday morning.