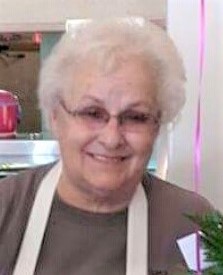 Geneva D. McCulley McGrew, 76, of Geff, IL, died at 9:00PM on Saturday, October 5, 2019, at her residence. She had been the owner and operator of Grandma's Kitchen in Flora, IL for 29 years. Geneva was born on December 21, 1942, in Wayne County, to Dellas and Lena (Slankard) Atkinson. She was first married to Everett McCully, who preceded her in death, and later, married Earl Edward McGrew.
Survivors include her husband Earl Edward McGrew of Geff, one son Everett Sonny (Janet) McCulley of Fairfield, two daughters Tambra Rudy of Noble, IL, and Virginia (Tom) Hemmrich of Clay City, IL, two step-daughters Angie Stanford of Louisville, IL, and Sondra Godwin of Iuka, IL, one brother Perry (Pat) Atkinson of Pakota, IN, one sister Shelia (Harold) Howell of Fairfield, six grandchildren Buddy Flowers of Louisville, KY, Chad Flowers of Cumberland, OH, Brad McCulley and Rachel Hooper/Moore both of Fairfield, Christian Lauber of Florida, and Stacia Slover of Orchardville, IL, several great and step-great grandchildren, and many great great grandchildren. She was preceded in death by her parents, her first husband Everett McCulley, and one daughter Joanne Flowers.
Funeral services for Geneva McGrew will be at 11AM on Wednesday, October 9th, at the Johnson and Vaughn Funeral Home in Fairfield with burial in Victory Cemetery in Boyleston, IL. Visitation will be from 5-7PM on Tuesday, October 8th at the funeral home. Memorial donations can be made to the Clay Co Animal Rescue Shelter, Animals Requesting Friends, or the Dr. Scranton Memorial Fund and will be accepted at the Johnson and Vaughn Funeral Home which is in charge of arrangements.