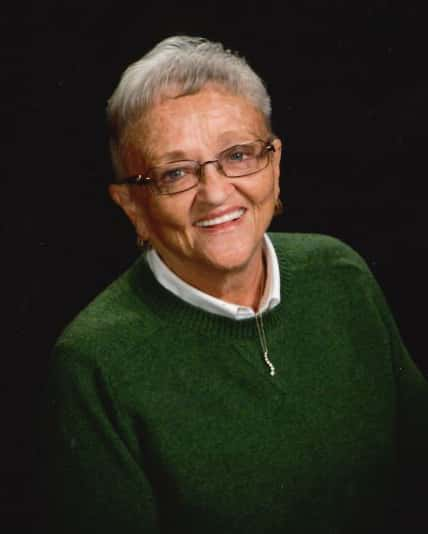 79-year-old Judith "Judy" Kae Hicks of Mount Vernon, Illinois passed away at 8:03 A.M. October 9, 2019 at Crossroads Community Hospital in Mount Vernon. She was born February 2, 1940 in Grundy Center, Iowa to the late Bertram Lyle and Victoria Marie (Smith) Robinson. She married John Richard Hicks on June 15, 1969 in Reinbeck, Iowa. They were blessed with forty-nine years of marriage.
Judy was the second of five Robinson children who were raised in Reinbeck and is survived by all her siblings – Jackie (Robinson) Birdsell of Hampton IA, Larry Robinson of Colorado Springs, CO, Tim Robinson of Des Moines, IA, and Terry (Robinson) Thompson, of San Rafael, CA. Although she made Mount Vernon her home town after marrying John, she always considered Reinbeck her home.
Judy grew up a sports and music fanatic, playing baseball, basketball, tennis, and water sports as well as enjoying tap dance and band. She told stories of begging her mother to let her play the trumpet, which girls just did not do in the 1950s. Music was a lifelong passion for Judy. She ultimately played the trumpet through her college years and carried on playing locally in southern Illinois with the Rend Lake Civic Symphony and the Fairfield City Band in the 1980's and 1990's.
Judy graduated from Wartburg College in 1961 with a degree in Teaching. Although she said she really wanted to be a music major, she ultimately chose History. She met some of her best friends at Wartburg. Judy and her best Wartburg friend, Beverly (Alfrejd) Blake of Blue Island, Illinois, decided to pursue their first teaching jobs together in Nokomis, Illinois. The jobs rewarded both Wartburg girls with the love of their lives – Judy met and married John Hicks from Mount Vernon and Bev met and married Ron Blake of Murphysboro. The Hicks and Blake families have enjoyed a very special relationship for more than fifty years.
Shortly after their nuptials in 1969, the Hicks newlyweds relocated to Mount Vernon to start a family. Judy began teaching at Webber Township High School in Bluford, Illinois in 1978, coinciding with her son and daughter being in school full time. Judy never left Webber, retiring from teaching after 25 years in 2001. She and John thoroughly enjoyed their retirements, vacationing frequently in Florida, traveling overseas, and participating in the lives of their grandchildren. Judy was preceded in death by her dear husband John just 14 months ago in August of 2018. In spite of the love and care of her family and wonderful friends, Judy just struggled to move on without John.
Judy will be forever remembered by the family she leaves behind, her siblings, and cousins, many nieces and nephews, and especially her children – son and daughter-in-law, Robb and Aimee Hicks of Dallas, Texas, daughter and son-in-law, Sarah and Matt Rush of Fairfield. Judy will always be "grandmother" to her grand kids, Jacob and Lucy, who have enjoyed a special bond and friendship that meant the world to her.
A Greeting of Family and Friends will be held on Sunday, October 13 from 3:00 P.M. to 5:00 P.M. at First United Methodist Church in Mount Vernon, Illinois. A Memorial Service will begin at 5:00 P.M. with Reverend Victor Long officiating. Memorials may be made to the Angels on Assignment, Meadowbrook Christian Church, or Crossroads Community Hospital Auxiliary.