The first installment of Edwards County real estate taxes is due today. A 1.5 percent late fee will be added to amount due if the first installment is not made by the end of the day. Payment may be made at the Edwards County Courthouse or in the drop-box located on the courthouse's northeast side. Any payment sent by mail must be postmarked today by the U.S. Postal Service to avoid a late fee.
56-year-old Sheila J. Ryker was arrested by Wayne County Sheriff's Office personnel yesterday afternoon. She was wanted on a Wayne County warrant for possession of methamphetamine. Ryker was booked in the Wayne County Jail and held, pending the posting of $1,520 bond.
The West Salem Development Association will host its annual Christmas Auction this Friday at the Community Building on the West Salem Square. The auction will begin at 6 p.m., and merchandise will be provided by Thomas Factory Outlet. Supper and concessions will be available at 5:30.
New Illinois, a group pursuing a separation from Chicago and much of Cook County, will hold an informational meeting at the White County Fairgrounds Floral Hall on November 16th. The event will run from 1 to 3 p.m., and several speakers have been scheduled, including state representative Darren Bailey.
Grayville officials reportedly heard from two companies at their recent city council meeting regarding water tower maintenance. The companies discussed the problems the tower is facing and general strategies for rectifying them, but no action was taken. Commissioners also decided to set the city's tax levy at a two percent increase and approve an increase in the fine for stealing utilities, which will go from $100 to $250.
The first freeze of the harvest season could come later this week, but Wayne County Farm Bureau Manager Doug Anderson says it may not have a significant effect. He says the crop is far enough along that a freeze may not impact yields much, though cold and wet weather will slow down soybean harvest.
The Wayne County Fair Board will hold its annual Christmas Craft and Vendor Fair this Saturday from 8 a.m. to 3 p.m. at Floral Hall. Over 20 vendors have already signed up for the event, and any others interested in joining should call Martha Hooper at 516-2189 or Stephanie Caudle at 812-455-5463.
Frontier Community College will host a Program Showcase on November 14th for interested community members and area high school students. The event will run from 9 a.m. to 1 p.m., and anyone interested in attending should RSVP with FCC or their high school by Tuesday.
Fairfield Memorial Hospital will offer a full day of complimentary meals for any interested veteran on November 11th. This is the hospital's fourth year of hosting the event in appreciation of area veterans. Breakfast will be served from 6 to 8:30, lunch from 10 to 1:30, and dinner from 4 to 7:30.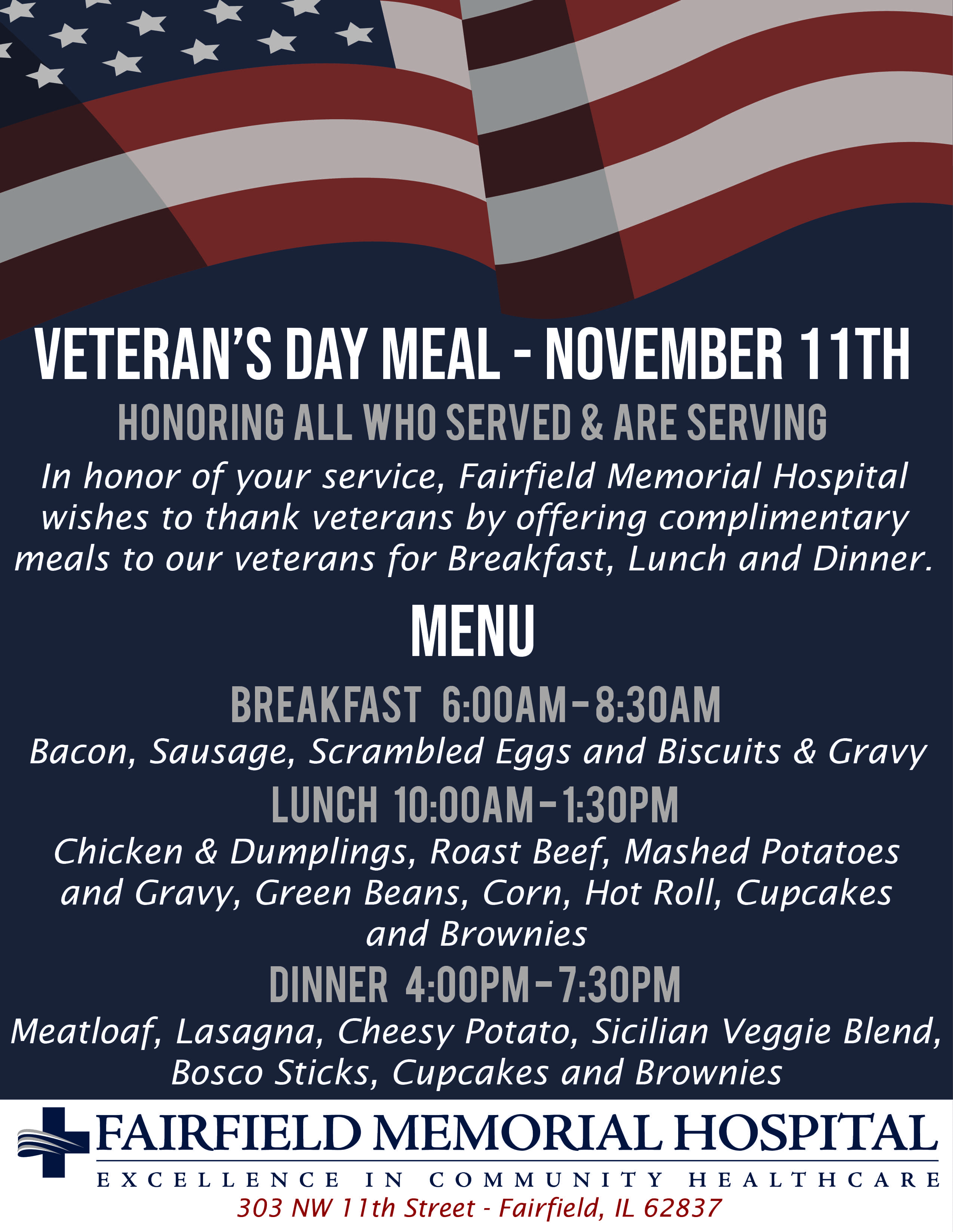 Farmers were able to make more progress last week, according to the latest statewide crop report. 93 percent of corn is mature, and 54 percent has been harvested. Corn crop conditions improved to 55 percent in good-to-excellent condition. 96 percent of soybeans are dropping leaves, and 69 percent of acres have been harvested. The condition of the soybean crop also improved to 49 percent rated good-to-excellent.
Illinois teachers are being encouraged to apply for grant funding through the Illinois Department of Natural Resources. DNR Spokesperson Rachel Torbert says they are targeting educators for their Illinois Schoolyard Habitat Grant, which helps establish pollinator habitat. However, several more grants are available, as well, and information may be found at dnr.illinois.gov/education.
Kentucky has launched a marketing campaign to coax Illinois companies to move across the border with promises of lower taxes and better weather. Kentucky officials said some Illinois companies are interested in moving, in part because of its right-to-work law, which prohibits requiring workers to join unions and bars private-sector employees who don't join from collecting fees. Governor J.B. Pritzker's office downplayed the campaign; it noted that Chicago leads the nation in corporate relocation, and the state's unemployment rate is the lowest in history.
River stages as of this morning:  the Little Wabash east of Fairfield stands at 20.07 feet, above the 17 ft. flood stage. Meanwhile, the Skillet Fork at Wayne City has a reading of 7.79 feet (flood stage is 15 ft.). The Little Wabash below Clay City is at 18.85 feet (flood stage is 18 ft.). Bonpas Creek at Browns reads 2.40 feet, and the Little Wabash at Main Street in Carmi reads 20.25 feet.
Today's crude oil price is $48.50, unchanged from yesterday. The November crude oil price is $55.33, up $0.07 from yesterday morning.