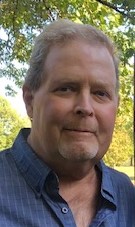 Anthony "Todd" Kelsey, 54, of Albion, IL passed from this life to the next following a lengthy illness, surrounded by his family and friends, on November 3, 2019 at Fairfield Memorial Hospital in Fairfield, IL.
Todd was born January 18, 1965 in Mt. Carmel, IL, the son of Linda (Gray) and Jack Kelsey.
He graduated from SIU-Carbondale and worked at Toyota for 17 years. Todd was a local grain and cattle farmer who loved his cows. He was a member of the House of Prayer. He was a loving son, brother, and dad. He was also a very loving "Poppy." Todd had a generous heart and helped many people behind the scenes. He could truly be described as "the hands and feet of Jesus." Todd was a courageous fighter who battled cancer for 14 years, a fact he kept hidden from most. He enjoyed taking his Grands to his favorite fishing spot, which will remain a secret!
Todd is survived by his son, Drake (Haley) Kelsey of Albion; his mother, Linda Kelsey of Albion; two sisters: Pam (Bob) Maher of Boonville, IN and Kindra (Kevin) Schnicker of Ellery, IL; one brother, Doug (Lynn) Kelsey of Normal, IL; three grandchildren: Kaysen, Kyntlee, and Kash; and several nieces and nephews. He is also survived by special friend Jenny Borgra of Evansville, IN and special friend Barry Hodges of Ellery.
He was preceded in death by his father, Jack; and his grandparents: Raymond and Edna Kelsey and Chet and Mildred Gray.
Visitation will be held Thursday, November 7, 2019 from 4 to 7 p.m. at the House of Prayer in Albion. A Celebration of Life will be held Friday, November 8 at 10 a.m. at the House of Prayer with burial to follow at Little Prairie Cemetery, west of Albion.
In lieu of flowers, memorials may be made to "Todd Kelsey Grandchildren Education Fund."
Online condolences may be shared with the family at www.meridithfuneralhome.com.
Ingram-Meridith Funeral Home of Albion is honored to be entrusted with the arrangements.