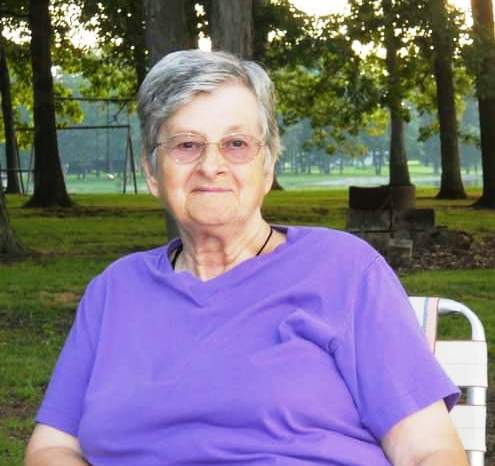 80-year-old Mary Ruth Biggerstaff Parr of McLeansboro, died at 10:51 p.m. Sunday, November 10 at Good Samaritan Hospital in Mt. Vernon, Illinois. She was a homemaker and a member of the Temple Baptist Church. Mary loved to cook, read, and take care of her family.
Mary was born on August 12, 1939 in McLeansboro to James Arthur Biggerstaff and Jennie (Lasater) Biggerstaff. She married Edward Lewis Parr on December 28, 1957 in McLeansboro, and he passed away on June 15, 2010.
Survivors are a daughter: Cathy Hoover of McLeansboro; two sons: James N. Parr and wife Amy of McLeansboro and Steven Parr of McLeansboro; three brothers: John Biggerstaff (wife Sharon) of Woodlawn, Lowell Biggerstaff (wife Linda) of McLeansboro, Dale Biggerstaff (wife Brenda) of Dale; three sisters: Florene Dutton (husband Russ) of Mt. Vernon, Illinois, Alice McKinney of Sandwich, Illinois, and Nona JoAnn Beckham of Mt. Vernon, Illinois; three grandchildren: Christina Strumpher (husband Jacob) of Mt. Vernon, Illinois, James Parr Jr. of McLeansboro, and Patrick Barrall of Fairfield; two-great-grandchildren: Raylan and Graycin. Numerous nieces and nephews also survive. She was preceded in death by her parents, husband, son: Eddie Ray Parr, six brothers: Donald, Cecil, Claude, Ralph, Wesley, Manuel; five sisters: Mildred, Evelyn, Dorothy, Laura and Wanda.
Funeral services for Mary Ruth Biggerstaff Parr will be held at 12 noon Friday, November 15 at the Harre Funeral Home in McLeansboro. Burial will be held at Mt. Olivet Cemetery in McLeansboro with Tim Biggerstaff officiating. Visitation will be held from 10 a.m. to 12 noon on Friday, November 15 at Harre Funeral Home in McLeansboro.
Donations may be made to the family and will be accepted at the funeral home.
The Harre Funeral Home in McLeansboro is in charge of all the arrangements.