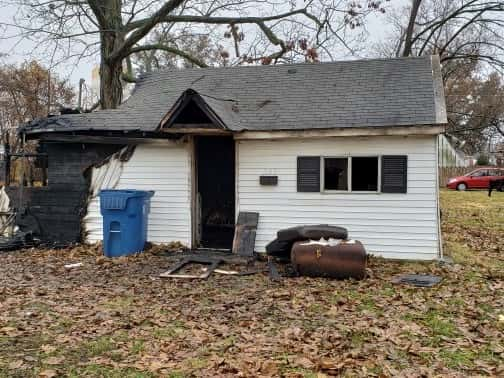 Fire heavily damaged a home at 506 West Summit Street in Fairfield early this morning.  Fairfield firemen got the call around 6:15 a.m. and were on scene for about two hours.  According to the fire department, the home was a total loss.  The home was owned by Ginger Harvey and was being rented by Craig Stein.  No one was home when the fire broke out, and no one was injured, although the fire department said one dog and one cat died in the fire.  A cause of the fire is still being investigated.  (photo courtesy of Derek Dunn)
Fairfield lawyer John Robison Jr. has been elected by the Board of Governors of the Illinois State Bar Association to the 2019 Class of Distinguished Counselors.  The title is conferred each year upon those ISBA members who are completing their 50th year of practice in the legal profession.  The 2019 class was honored at a reception and special luncheon at the Palmer House Hilton Hotel in Chicago followed by a ceremony during which each member of the class in attendance was presented by ISBA President David Sosin with a Certificate Conferring the Title of Distinguished Counselor.
The Greater Fairfield Area Chamber of Commerce's Holiday Open House is set for Sunday.  Chamber Executive Director Marti Garner said the event will run from noon til 5 p.m. and feature 15 chamber members.  One of the featured businesses for Sunday is Mindy's Sew Shop, and Garner said that business will have a Ribbon Cutting ceremony at 10 a.m. Monday, December 2nd.  Other Christmas-related activities will take place in the coming days, leading up to the Festival of Lights, which will kick off on December 5th, and the Kiwanis Christmas Parade, set for December 7th.
Area hunters are being reminded to practice proper safety techniques as they head to the woods for Illinois' first shotgun deer season, which began Friday and runs through Sunday.  The second season will run from December 5th through 8th with the Muzzleloader Season from December 13th through 15th.
According to a City of Fairfield Facebook post, Republic Services will be running its bulk route this month on Monday.  Residents need to have their items at the curb early in the morning, as some drivers will start their routes at 5 a.m.  Wet paint, electronics, construction items, tires and appliances will not be picked up.  Also the village of Cisne has announced its trash collection service will pick up trash on Thanksgiving Day.
A blood drive held Wednesday, November 13th at the Community of Christ Church in Fairfield has been delcared an overwhelming success, according to event organizers.  The Red Cross collected 71 units of blood, well above the goal of 55 units.  Winners of $25 John's Butcher Block gift cards were Max Dee Green and Janie Young of Fairfield.  The next local blood drive will be on January 15th at the Community of Christ Church.  The January drive will be the winter donorama, and chili will be served to those who donate.  Appointments can be made by calling 838-9873 or online at    redcross.org
River stages as of this morning:  Little Wabash River east of Fairfield is at 6.2 feet.  Flood stage is 17 feet.  At Clay City the stage is 6.51 feet.  Flood stage is 18 feet.  At Carmi the stage is 4.47 feet.  Flood stage is 27 feet.  The Skillet Fork at Wayne City is at 5.99 feet.  Flood stage is 15 feet.  The Wabash River at Mt. Carmel stands at 3.97 feet.  Flood stage is 19 feet.  More rain is possible in the region on Tuesday, with another chance toward the Thanksgiving Day holiday.