Faye Sefried, 89, a resident of Belle Prairie, Illinois, died Wednesday, November 27, 2019 at the Hamilton Memorial Rehabilitation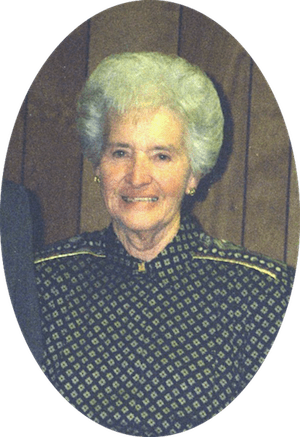 and Health Care Center. She was a home maker and a member of the Hopewell Baptist Church near McLeansboro.
Faye Sefried is survived by her husband, Rev. Robert Sefried of Belle Prairie; daughter, Debra (John) Morris of Belle Prairie; grandchild, Heather Browning; two great-grandchildren: Parker Smejkal and Austin Harrison; brother, Albert Severs of Belle Prairie; and step-sister, Evelyn Barker of McLeansboro.
She was preceded in death by her parents, step-father, John Aydt; one son, Terry D. Sefried; one brother, Cyrus Severs; and two sisters: Maxine Halley and Wilma Halley.
Funeral services for Faye Sefried will be held Sunday, December 1, 2019 at 2:00 p.m. at the First General Baptist Church in McLeansboro with Rev. Robert Sefried officiating.  Visitation will be held from 4 p.m. to 8 p.m. on Saturday, November 30, 2019 at the First General Baptist Church in McLeansboro.  Faye will be laid to rest at the Crouch Cemetery in Belle Prairie, IL.  Memorial donations may be made to the Crouch Cemetery Fund and will be accepted at the church and at the Gholson Funeral Home in McLeansboro.
Online condolences may be shared at www.gholsonfuneralhome.com.
The Gholson Funeral Home of McLeansboro is assisting the family with arrangements.