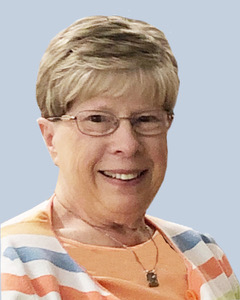 Glenda Kay (Osborn) Jones (previously from Peoria, IL; Appleton, WI; Warrenville, IL; and retired in Maryville, TN) passed away on November 16, 2019 at Shannondale in Maryville, TN.
She was the first daughter of Denzil and Roberta Osborn born on September 14, 1945 in McLeansboro, IL
Kay married Daniel E. Jones on June 24, 1967 after graduating from Murray State University in Kentucky where she majored in business education.  She taught business subjects for 17 years at Colfax High School, Princeville High School and Illinois Central College.  She then worked in the accounting departments of Kimberly Clark in Wisconsin, Metropolitan Structures in Chicago and Williams Architects in Wheaton, IL
She and her husband enjoyed traveling throughout the United States and Canada.  Kay's favorite places included Banff and Lake Louise in Canada, Door County in Wisconsin, the state of Arizona, Whistler in British Columbia, Glacier National Park in Montana, as well as many others.
Her hobbies included photography, particularly of wildlife and flowers, and cooking.  Both her cooking, the products of which she shared with others, and photography brought joy to many family members and friends.
Kay was a staunch supporter of her nephew Brady traveling coast to coast to attend Brady's many fine arts performances throughout the years and those of his students.
She was a member of East Maryville Baptist Church.  During her seven month cancer journey her faith remained unwavering and she was an inspiration to friends and family frequently referring to her many favorite hymns as a source of strength.
Kay was preceded in death by her parents.  She is survived by her husband Daniel E Jones of Maryville, TN; her sister Mary Ellen Sanders (Roger) of Knoxville, TN; a nephew Brady Lee Sanders (Jared Pascoe) of Pittsburgh, PA; sister-in-law Diane Carlson (William Freyd) of Las Vegas, NV; a nephew Gregg Carlson (Sharon) of Henderson, NV; a nephew Bradley Carlson (Carey) of West Friendship, MD; a niece Stephanie Carlson of St. Paul, MN and several cousins in Illinois, Minnesota, and Maine.
Funeral Services will be held December 09, 2019 at Smith Funeral & Cremation Service in Maryville, TN.  Visitation will be from 9:30 AM to 10:30 AM.  Memorial Service will begin at 10:30 AM at Smith Trinity Chapel.  Burial service will be held December 11, 2019 at 10:00 AM at Harre Funeral Home in McLeansboro, IL with burial following at Garrison Cemetery in southern Illinois.   A special memorial service is being planned in Wheaton, IL for May 5, 2020 at 10:30 AM at Highpoint Church – Wheaton.
Donations in Kay's memory may be made to America Cancer Society at www.cancer.org, Alzheimer's Association at alz.org, or Parkinson's Foundation at www.parkinson.org.