The Wayne County Sheriff's Office, Fairfield Police Department, Southern Illinois Drug Task Force, and Wayne County Drug Task Force conducted a drug warrant sweep over the past week and arrested 10 suspects. The sweep was the culmination of investigations into the meth problem in the county. Further arrests are anticipated, and the following 10 suspects were arrested on charges ranging from delivery of methamphetamine to possession of meth: 31-year-old Kimberly D. Charles, 20-year-old Brynden K. Payton, 27-year-old Deavon B. Baker, 21-year-old Maycee Randolph-Bailey, 58-year-old Dave J. Kunce, 21-year-old Ace A. Haygood, 30-year-old Ronald D. Stark, 30-year-old Teesha M. Jennings, 34-year-old Eddie L. Morton, and 27-year-old Andy L. Bailey.
Illinois' corn and soybean production fell by 18.6 percent and 20.4 percent, respectively, compared to 2018, according to final crop yield numbers released by the USDA. Farmers harvested just over 1.8 billion bushels of corn last year, and soybean production checked in at roughly 532 million bushels.
The City of Fairfield is accepting applications for the position of deputy treasurer. Applications will be reviewed as they are received, and they will be accepted until the position is filled. The starting date for the job will be approved by the City Council. Applications may be obtained at City Hall.
Fairfield Public Golf Course volunteers will conduct the first in a series of winter porkburger cookouts this Saturday. Drive-through service will begin at approximately 10 a.m. on Main Street in front of the Wayne County Courthouse. Proceeds from the sales will help offset course operating costs.
University of Illinois health system officials have proposed building a $191 million outpatient care center next on Chicago's west side. The project applications said it would be funded through a public-private partnership, and a hearing has been set for April 7th. If approved, the project could be completed by 2022.
The Fairfield/Wayne County Area Development Commission will meet this afternoon to discuss the city council's upcoming vote to "decommission" the group. Most of the 10-member commission was caught by surprise when the city council's TIF Committee recommended abolishing the commission.
Fairfield Police Chief Keith Colclasure has released the 911 statistics for 2019, and he says over 30,000 calls were logged at the Fairfield Police Department. In light of recent break-ins, he also reminds people to call or text Crime Stoppers at 842-9777 if they have any information on the incidents.
The Fairfield City Council will meet tomorrow night at 6 with a full agenda. Aldermen are expected to address recommendations from the TIF committee, as well as an ordinance pertaining to video gaming and an update to the police and fire eligibility rosters. Flooding issues will also be discussed.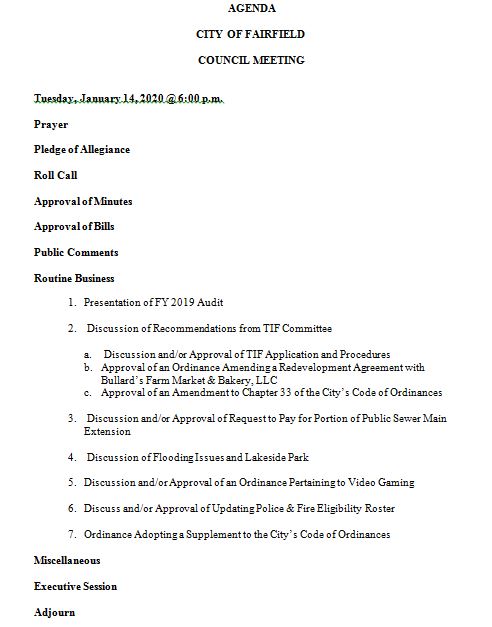 The FCHS Varsity Scholastic Bowl team participated in the Turnabout Tournament Saturday at FCHS. Fairfield had two teams in the eight-team field; its A Team took home third place, and its B team captured fifth place. Jason Wright, Lex Gonzalez, and Karlie Taylor were named to the All-Tournament Team.
Governor J.B. Pritzker says he wants to look into several criminal justice reforms in the coming months, including ending cash bail. The governor says the ultimate goal is to reduce the prison population in the state, which stands at approximately 40,000 inmates, and he says many people are just sitting in jail because they can't afford their bond. He always wants to look at mandatory minimum sentencing laws, giving judges more discretion during sentencing.
Ginger Ostro, a former Chicago State University Chief Financial Officer, was named the new executive director of the Illinois Board of Higher Education earlier this month. Ostro takes over the agency as it is intensifying its focus on improving college attainment and closing achievement gaps.
River stages as of this morning:  the Little Wabash east of Fairfield stands at 25.97 feet, above the 17 ft. flood stage. Meanwhile, the Skillet Fork at Wayne City has a reading of 20.06 feet (flood stage is 15 ft.). The Little Wabash below Clay City is at 23.98 feet (flood stage is 18 ft.). Bonpas Creek at Browns reads 20.37 feet, and the Little Wabash at Main Street in Carmi reads 30.02 feet. The Wabash River at Mt. Carmel sits at 22.04 feet.
Today's crude oil price is $52.00, down $0.50 from Friday. The February crude oil price is $59.15, down $0.11 from Friday morning.