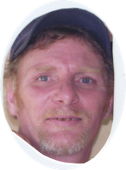 54-year-old Paul Eugene Hill, a resident of McLeansboro, passed away Sunday, January 12 at McLeansboro Rehabilitation and Health Care Center.  He was born on June 30, 1965 in East Prairie, Missouri, the son of Paul James and Linda Marie (Rutledge) Hill.  Paul was a retired carpenter.
Paul is survived by two brothers: Robert Lee (Angelia) Hill of McLeansboro and Peter Rutledge of McLeansboro; one sister, Christina May Broyles of Tennessee; several aunts and uncles from Missouri, Ohio and Illinois, including his caregiver Estelita Kay Jackson and his best buddy, Eddie Jackson.  Several cousins also survive.
He was preceded in death by his parents and one sister, Patricia Lester.
Funeral services will be held Friday, January 17 at 1:00 p.m. at the Gholson Funeral Home in McLeansboro with Rev. Robert Sefried officiating.  Visitation will be Friday, January 17, from 11:00 a.m. until the time of service at 1:00 p.m. at the Gholson Funeral Home in McLeansboro.  He will be laid to rest at Hopewell Cemetery.
The Gholson Funeral Home of McLeansboro is in charge of arrangements.