Edwards County Commissioners have formally voted to approve the takeover of the Edwards County Ambulance Service by Wabash General Hospital, effective March 1st. Commissioners Matt St. Ledger and Davis Messman voted yes on the move, and Commissioner Duane Lear abstained.
The TIF Committee of the Fairfield City Council will meet Wednesday evening at 6 at City Hall. The Committee will hear five requests for TIF funds, including the potential use of TIF money for work on parking lanes and connector roads in conjunction with the state's upcoming work on Route 15 in 2021. The TIF Committee meeting will be preceded by a Joint Review Board meeting at 4:30.
25-year-old Blake A. Morgan and 18-year-old Nathan B. Downer were arrested over the weekend on Wayne County warrants stemming from a residential arson and burglary in Cisne last month. The two were transported to the Wayne County Jail and held, pending the posting of their respective bonds.
Several other people were also booked in the Wayne County Jail over the weekend. 31-year-old Kyle O. Hicks and 39-year-old Dustin R. Pike were each arrested on a charge of possession of methamphetamine. They were held in jail, pending an appearance before a judge to set bond.
Shear Details Full Service Salon at 204 East Section Line Road in Wayne City held an open house yesterday. Owner Angela Hedden invited the public to see the new building a new staff, comprised of Meghan Hedden, Chrissy Gabbard, and Darla Simpson. Over 60 people reported attended the event.
Fairfield Police Chief Keith Colclasure has provided a few details on the mechanics of a potential municipal court. Chief Colclasure says people wouldn't have to take time off for a circuit court appearance for certain offenses, but they could just pay a fee without a blemish on their criminal records.
The Fairfield City Council will meet tomorrow night. Action will begin at 5:45 with a public hearing regarding changes for various properties around the city, and the regular council meeting will begin at 6. TIF projects for air conditioning at FCHS and a transformer at Aperion are expected to be approved.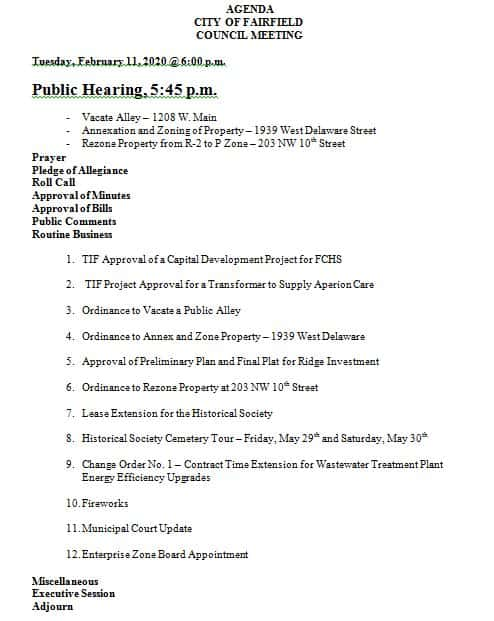 The Wayne County Farm Bureau will hold its 98th annual meeting at 5:30 p.m. on March 5th at the Fairfield First Christian Church. The meeting will be preceded by dinner, and members are asked to RSVP by March 1st. Young Leader Committee members will collect non-perishable food donations at the meeting.
Last month was wetter and cooler than one year ago. We received six-and-a-half inches of rainfall here at the radio station last month, compared to under three-and-a-third inches in January 2019. The average high last month was 44.1 degrees, and the average high last January was 51.8 degrees.
77-year-old Du Quoin resident Larry V. Underwood died in a head-on crash Friday morning near mile marker 84 on Interstate 64 in Jefferson County. Illinois State Police say Underwood was driving west in the eastbound lanes of I64 when he was struck head on by a semi, driven by 66-year-old Missouri resident Henry T. Kauble. State Police said in a release over the weekend that the crash remained under investigation.
State Representative Darren Bailey is sponsoring a bill that would eliminate the Education Teacher Performance Assessment test. Lawmakers approved several pieces of legislation last year to make teaching more attractive, and one other test was eliminated, but Bailey says more must be done, as he says the ETPA and similar hurdles have caused several potential teachers to leave the profession.
Senate Democrats are putting together a special committee to look at ways to improve public safety in Illinois, and members say they want to address disparities within the criminal justice system. Ideas include more education and job training for inmates, and making sure children have a chance to visit their parents who are in prison. Group members say they can't pass thousands of bills to address their concerns, but they can begin to chip away at an "oppressive system."
River stages as of this morning:  the Little Wabash east of Fairfield stands at 19.56 feet, above the 17 ft. flood stage. Meanwhile, the Skillet Fork at Wayne City has a reading of 9.24 feet (flood stage is 15 ft.). The Little Wabash below Clay City is at 18.20 feet (flood stage is 18 ft.). Bonpas Creek at Browns reads 11.89 feet, and the Little Wabash at Main Street in Carmi reads 20.56 feet. The Wabash River at Mt. Carmel sits at 13.10 feet.
Today's crude oil price is $43.25, down $0.75 from Friday. The March crude oil price is $50.16, down $0.83 from Friday morning.