The first COVID-19 death has been recorded in Wayne County. The announcement came from the Illinois Department of Public Health in their daily report this afternoon at 3:00 p.m. He was an 80-year-old man. No further details. Nothing from Wayne County Public Health officials.
UPDATED—The radio station has once again spoken to Aperion Care of Fairfield. The four positives reported to the state this week are in isolation and the company says it is following all state regulations. Aperion also reports all of its Fairfield staff have tested negative. While it is not a company policy, Adminstrator Chad Foster says some of the positive residents have been re-tested. He now says one of the original positives has come back negative.
The Wayne City High School Scholarship Foundation has announced a host of scholarship winners. Over $130,000 in scholarships awards was announced today, and over $770,000 in awards has been paid out since 2002. A full list of scholarships, winners, and amounts awarded can be found below.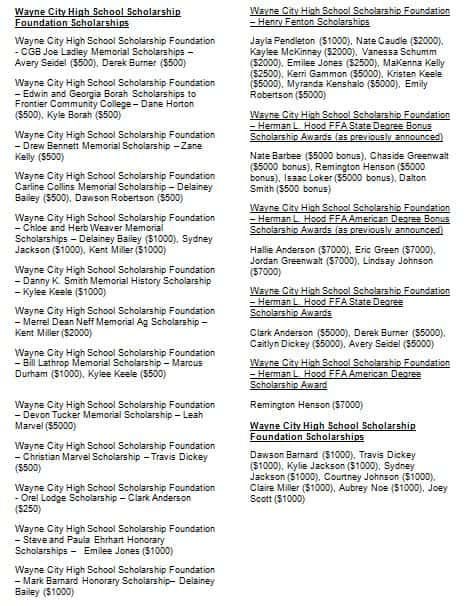 The Fairfield Park Board will meet tonight at 6 in the shop area of the Leo French Park Maintenance Building. After a financial report and a report from Park Superintendent Chris Jenkins, the board is expected to discuss an employee payroll review and the 2018-2019 Audit report before adjourning for the night.
Wabash Valley College has announced its instructors of the year, as selected by its student body. Jill Winter is the college's Outstanding Transfer Instructor, Ronda Hockgeiger is the Outstanding Career and Technical Education Instructor, and D-Ray Etzkorn is the Outstanding Adjunct Instructor.
A federal judge has rejected a challenge to Governor J.B. Pritzker's authority to impose stay-at-home orders on churches in the battle against COVID-19. The ruling dismissed a comparison between churches and grocery stores, saying churches are more similar to schools or concert halls. The ruling is expected to be appealed.
The Fairfield Public School District is investigating the possibility of holding online registration for next year. Superintendent Dr. Scott England says registration is currently planned for July 14th and 15th. Also, the district's food delivery program will run through May 29th, and pickup of student belongings continues today and tomorrow at North Side and Center Street.
The Wayne County Board will meet tonight at 7 in the upstairs courtroom of the Courthouse. It is scheduled to hear from Supervisor of Assessments Jodi Poole, who is requesting the appointment of Jim Elliott and Jansen Vaughan to the Board of Review. The board is also expected to discuss personnel and union contracts in executive session.
People's National Bank has awarded $38,500 in scholarships to 77 students throughout southern Illinois. Kaleb Smith and Sara Timm from Cisne High School; Alexia Gonzalez, Alexia Hobbs, Cayden Taylor, and Lainie Milner from FCHS; and Avery Seidel and Kylee Keele from Wayne City High School will each receive $500 scholarships.
The state announced 1,677 new cases of COVID-19 yesterday and 192 additional deaths, bringing statewide totals to 84,698 cases and 3,792 deaths. Wayne County remained at eight total positive tests, and two of the individuals have been released from isolation. Edwards County remained at two positive cases.
The Madison County Board has discussed the possibility of reopening the county earlier than prescribed by the state. After meeting with the county's Board of Health, a plan was developed that was said to balance public health, constitutional rights, and the county's economy and jobs. Board members did acknowledge the plan could pose a problem for businesses licensed by the state, and Governor J.B. Pritzker has also said he would consider withholding federal funds to counties ignoring his stay-at-home order.
Governor Pritzker has announced $25 million in grant funding will be available to local governments, townships, and school districts to help pay for planned construction projects. He also says Illinois hospitals have started receiving $75 million in new stability payments to help fight the coronavirus.
The Illinois General Assembly will convene on May 20th-22nd. The House will meet at Bank of Springfield Center instead of the traditional capitol setting. The Senate will meet in its regular chamber. Lawmakers have been absent from the Statehouse since early March, and the assembly's spring-session calendar had been scheduled for a May 31st adjournment.
River stages as of this morning:  the Little Wabash east of Fairfield stands at 11.19 feet, below the 17 ft. flood stage. Meanwhile, the Skillet Fork at Wayne City has a reading of 5.42 feet (flood stage is 15 ft.). The Little Wabash below Clay City is at 7.08 feet (flood stage is 18 ft.). Bonpas Creek at Browns reads 1.92 feet, and the Little Wabash at Main Street in Carmi reads 14.46 feet. The Wabash River at Mt. Carmel sits at 7.39 feet.
Today's crude oil price is $18.25, down $0.50 from yesterday. The July crude oil price is $26.67, up $0.58 from yesterday morning.