Wayne County Fair Board President Gary Carter says the board's intention is still to hold the fair this year. State guidelines must be met, and the board would work with the county health department in order to ensure a safe environment. A final decision on the matter is expected at the board's meeting next month.
The Illinois Eastern Community College Board of Trustees will meet tonight at 7 in a teleconference. The board is expected to approve a collective bargaining agreement with Frontier Community College for training in its Title III Grant. The meeting may be joined at https://zoom.us/j/97233388383. Meeting ID: 972 3338 8383. Dial-in phone number: 312 626 6799.
Kindergarten registration at Jasper Grade School will be held tomorrow from 8 a.m. to noon in the school cafeteria. Parents should bring their child's immunization records and social security number, proof of residence in the Jasper district, and a certified copy of their child's birth certificate. Anyone with questions may call 842-3048.
No injuries were reported in a single-vehicle accident last night approximately one mile northeast of Fairfield. According to police reports, at approximately 10:15, a 17-year-old Barnhill resident was southbound on a county roadway in a 2010 Ford Focus. The vehicle ran off the west side of the roadway, struck a culvert near a driveway, went airborne, and came to rest on the other side of the drive. A tow truck was called to the scene, and the vehicle sustained over $1,500 damage.
Former Governor Rod Blagojevich has been disbarred as an attorney in Illinois. His license had been suspended since 2011, and the Illinois Supreme Court announced the official disbarment yesterday. He was banned from running for office in Illinois in 2009 and has been convicted on multiple corruption charges.
The Wayne County Health Department said yesterday afternoon it had been notified of the ninth positive test for COVID-19 in the county. The individual is a male in his 50s; he and five other cases remain in isolation. Wayne County had completed a total of 520 tests for the virus as of yesterday afternoon. The state Department of Public Health announced 2,294 new cases of COVID-19 yesterday and 59 additional deaths, bringing statewide totals to 96,485 cases and 4,234 deaths. No new cases were reported on the state's website yesterday in Edwards, Clay, White, Hamilton, Wabash, Marion, Richland, or Lawrence counties.
The Edwards County Board of Education met last night. It says graduation is scheduled for August 2nd, but that date could change as new state guidance comes. It also asked the public to help contact local lawmakers to support the opening of school this fall. Superintendent David Cowger says there has not been much insight coming to local districts from Springfield regarding fall classes.
The Wayne City Community Unit School District says it will hold traditional graduation ceremonies on July 11th if allowed by the state. If not allowed, the district will hold individualized ceremonies from July 13th through 17th. People can call the school to schedule individual ceremonies, and they will be cancelled if traditional services are allowed. In addition, Wayne City High School has announced its senior scholarships and awards for the Class of 2020. Delainey Bailey, Kyle Borah, Sydney Jackson, and Kylee Keele were named Valedictorians, as they had perfect 4.0 GPAs and completed the Honors Curriculum.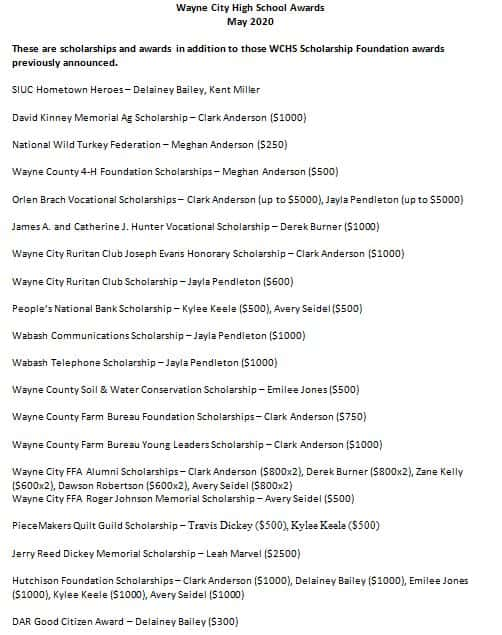 The Fairfield Community of Christ Church will hold a blood drive tomorrow from 11:30 to 5:30. David Savage says personnel will clean all surfaces after each collection, and safety protocols will be followed to ensure donor safety. CDC guidelines say everyone participating in the drive will be required to wear facemasks.
New Hope Waterworks started flushing its water lines yesterday as part of its spring work to keep its system clean and water pure. Customers could experience discolored water during the work, and they should check before doing laundry or similar items for discoloration, although such water is still safe to drink. People may also experience a dip in water pressure during the work. Anyone with questions should call 842-3477 or 925-4445.
Farmers are keeping well ahead of last year's planting pace, according to the latest statewide weekly crop report. 83 percent of corn has been planted, compared to just 20 percent one year ago, and 43 percent of the crop has emerged. 59 percent of soybeans have been planted, compared to seven percent at this time last year, and 21 percent has emerged. 67 percent of winter wheat has headed, and the condition of the crop dropped slightly to 63 percent in good-to-excellent condition. Average statewide topsoil moisture came in at one percent short, 49 percent adequate, and 50 percent surplus.
River stages as of this morning:  the Little Wabash east of Fairfield stands at 19.85 feet, above the 17 ft. flood stage. Meanwhile, the Skillet Fork at Wayne City has a reading of 7.35 feet (flood stage is 15 ft.). The Little Wabash below Clay City is at 18.32 feet (flood stage is 18 ft.). Bonpas Creek at Browns reads 11.40 feet, and the Little Wabash at Main Street in Carmi reads 23.07 feet. The Wabash River at Mt. Carmel sits at 15.44 feet.
Today's crude oil price is $24.75, up $2.25 from yesterday. The July crude oil price is $31.79, up $0.73 from yesterday morning.