26-year-old Tyler A. Hutcheson was arrested Saturday afternoon by Wayne County deputies on a charge of felony criminal damage to property in connection with the damage to several oil tank batteries in the county. The Sheriff's Office says it appears the damage was done as a form of retribution for having his employment terminated by one of the tank battery owners. He was held in the Wayne County Jail, pending the setting of bond.
20-year-old Kylee B. Robertson and 19-year-old Brady M. Thomason were arrested by last night on charges of possession of controlled or counterfeit substances. Robertson was also charged with possession of cannabis, and Thomason was wanted on a Wayne County warrant for possession of cannabis. They were held, pending the setting of bond.
28-year-old Andrew B. Greenwood was arrested this morning on a Wayne County failure to appear warrant for driving with a suspended license and improper lane usage. 19-year-old Taylor D. Charles was booked in the Wayne County Jail this morning on a Wayne County petition to revoke warrant for theft. The two were held, pending the posting of $595 and $770 bond, respectively.
41-year-old Brenda L. Jenkins was taken to Clay County Hospital after a single-car accident near Cisne yesterday. Police say she lost control of her vehicle on loose gravel. One passenger was also taken to the hospital, and three passengers refused transport. A tow truck was called to the scene, and the vehicle sustained over $1,500 damage.
No injuries were reported in a two-vehicle accident in Sims yesterday. Police say 36-year-old Nicholas E. Elliott backed out of a driveway on Miller Avenue and struck a vehicle driven by 78-year-old Larry R. White. No tow truck was called, and the vehicle sustained over $1,500 damage. Elliott was cited for failure to reduce speed to avoid an accident.
The Fairfield Public School District 112 Board of Education will meet tonight at 6 in the Center Street Boardroom. The meeting will begin with a public hearing on the 2019-2020 Amended Budget, and it is expected to be approved. The board is also scheduled to act on the hiring of head and assistant boys track coaches.
The FCHS Board of Education will meet tonight at 6 in the school study hall. After a budget hearing, the board is scheduled to adopt the FY20 budget amendment. It is then set to discuss increasing substitute pay rates and waiving the technology fee for the upcoming school year, and action is possible on both items.
The Fairfield City Council will meet tomorrow at 6 at City Hall. The meeting will be open to the public, and those that attend should follow social distancing guidelines. The meeting will also be available by phone; people may attend by calling (844)854-2222 shortly before 6, entering access code 767116#, and stating their name. Aldermen will discuss the purchase of a tractor and rotary mower, and they are set to discuss TIF requests from the gas and water departments.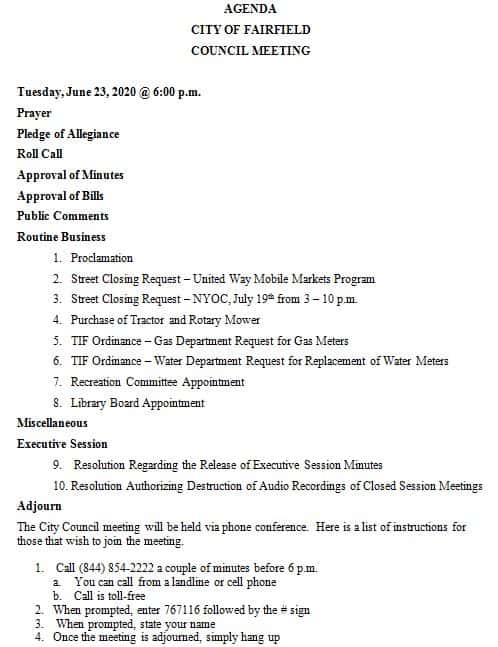 The Illinois Department of Public Health announced 658 new cases of COVID-19 yesterday and 23 additional deaths. Statewide totals sat at 136,762 cases and 6,647 deaths. Wabash County announced several new cases over the weekend and sat at 22 total, but no new cases were announced in Wayne or Edwards counties.
The University of Illinois will open the fall semester with as much in-person instruction as COVID-19 precautions allow, especially for labs and performance-based courses. Online options for all students who are unable to or do not prefer to return to in-person instruction will be available, and all undergrad sections of 50 or more students will meet online. The plan assumes the university has adequate testing in place and that the state has moved to Phase Four of the Restore Illinois plan, which is anticipated to occur on Friday.
Governor J.B. Pritzker has signed a law expanding the state's vote-by-mail program for the November election. Roughly five million recent voters will receive an application for a mail-in ballot, and the law requires early voting locations to expand their hours and permits curbside voting. It also makes Election Day a state holiday for government offices and schools.
The Illinois Department of Transportation's latest "Life or Death" campaign focuses on crash victims and their families and aims to put human faces to the sobering statistics of road fatalities. Last year in Illinois, more than 1,000 people died in motor vehicle crashes, and the campaign feature interview and comments from families about loved ones they lost on lifeordeathillinois.com.
Some Edwardsville residents reportedly want a statue of the state's third governor, Ninian Edwards, removed from a public plaza, and they want the plaza to be renamed. Their argument is that Edwards owned slaves and used his power to protect the practice, and they say the moves would help boost the civil rights movement happening nationwide.
River stages as of this morning:  the Little Wabash east of Fairfield stands at 5.08 feet, below the 17 ft. flood stage. Meanwhile, the Skillet Fork at Wayne City has a reading of 5.03 feet (flood stage is 15 ft.). The Little Wabash below Clay City is at 4.75 feet (flood stage is 18 ft.). Bonpas Creek at Browns reads 1.08 feet, and the Little Wabash at Main Street in Carmi reads 3.93 feet. The Wabash River at Mt. Carmel sits at 3.85 feet.
Today's crude oil price is $32.75, up $1.00 from Friday. The July crude oil price is $39.89, down $0.21 from Friday morning.